Walk A Mile In My Shoes - The Essential 70's Masters
CD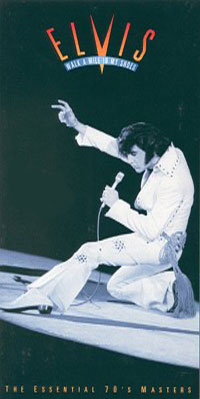 Released: 1995/10
by BMG
Great overview, thou not as complete as the box-sets of the previous decades.


ElvisNews review
The Elvis Presley of the mid 1970s bore little resemblance to the lean rock icon of the 1950s and early 1960s. As the seventies progressed and his addictions and weight spiraled upward, he would increasingly put less effort into his recordings and live performances. By the time of his death in 1977, in many ways, he had become a caricature of himself. Despite all this, his voice remained strong and thus there are some gems to by culled from his 70's music.
Walk A Mile In My Shoes: The Essential 70's Masters is a huge 5 disc, 120 track box set that followed on the heels of similar sets that covered his 50's and 60's material. The production is first rate as the sound is crystal clear. The 90 page booklet of photo's, biographical material, and notes about the included songs is essential to any Elvis collection. There is even a sheet of stamps, each of which portrays one of his 70's album covers.
The first two discs form the heart of the set. They contain the A and B sides of every single released between January 1970 and August of 1977. While his album releases would contain highs and lows, his singles would be consistently excellent. Building ballads such as "The Wonder Of You" and "You Don't Have To Say You Love Me" find Elvis in fine vocal form. "Burning Love," "Raised On Rock," "Steamroller Blues," and "Way Down" prove that Elvis could still rock. "An American Trilogy" shows that he could still successfully interpret songs that he cared about. "She Thinks I Still Care," "If You Talk In Your Sleep," and "For The Heart" are pure pop. "T-R-O-U-B-L-E," "Mr. Songman," and "Fool" and lost classics. Most of the songs gathered here would climb the Billboard charts and become an important part of the Elvis legacy.
Discs three and four concentrate on his studio work or studio highlights as it is listed in the credits. There are a number of so called unreleased tracks. This may be technically true but in reality they are mostly informal recordings and alternate takes of previously released material. When you remove the studio tracks that were issued as singles you are left with some good and some not so good material. Elvis gives a spectacular performance of "Bridge Over Troubled Water" but his "Mary In The Morning" is just the opposite as it is gentle and poignant in its presentation. "I Washed My Hands In The Muddy Water" finds Elvis traveling in a blues direction. "Amazing Grace" is an example that Elvis would rarely give a poor or even average performance of a gospel song. All in all these are discs that you need to pick and choose as to what appeals to you.
The fifth disc gathers live tracks from his concert performances and is the spottiest of the lot. His live material in the 70s would vary greatly in quality. Again the unreleased tracks are really not rare and actually detract from the overall quality of the disc. "Polk Salad Annie," "Walk A Mile In My Shoes," "You Gave Me A Mountain," and "Suspicious Minds" demonstrate that he could still rise to the occasion when motivated.
Walk A Mile In My Shoes: The Essential 70's Masters is about 70% very good and 30% less so which probably is representative of his output during the decade. While the material contained here has been released a number of times, it is nice to find it one collection. It is a worthwhile set for the serious Elvis collector and for anyone who would like to add some good music to their collection.
Tracklisting
Rating: 4 / 5
Rating: 5 / 5
Rating: 5 / 5
Rating: 5 / 5
Rating: 5 / 5
Rating: 5 / 5