Elvis Aron Presley
CD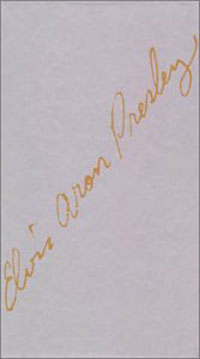 Released: 1998/04
by BMG
ElvisNews review
Elvis Aaron Presley was an 8 LP box set released in 1980 to commemorate the 25th anniversary of his recording debut. Despite the high price tag it sold over a million copies and consisted basically of unreleased live performances and obscure tracks from Elvis' long recording career. Many of these tracks have now been re-released a number of times but in 1980 they were unique. This set was issued in CD form in the early 1990s but has long been out of print.


Side one of the first disc is an early live performance recorded at the New Frontier Hotel in Las Vegas in the spring of 1956. It is a short thirteen minute concert but Elvis rocks throughout. "Heartbreak Hotel," "Long Tall Sally," "Blue Suede Shoes" and "Money Honey" are sung in their entireties at a blistering pace. These are not the throwaway songs they would become in the 1970s but rather find a young, vibrant Elvis at his rock 'n' roll best. Side two is a thirteen minute monologue recorded on the set of one of his movies. It is interesting to hear once but that's about it.

The second disc contains a complete concert performed March 25, 1961 in Honolulu Hawaii. This 15 song set featured fourteen of Elvis' early hits plus a stirring rendition of "Swing Low Sweet Chariot." From the opening "Heartbreak Hotel" and "All Shook Up" to the closing "Hound Dog," he is found at the top of his game. Scotty Moore, D.J. Fontana, Boots Randolph, Floyd Cramer, Bobby Moore and Hank Garland comprised his crack band at the time.

The third disc is entitled "Collectors' Gold From The Movie Years." It is basically alternate versions of previously released songs from his films. It really does not matter if this is take 16 of "Wild In The Country" or take 4 of "A Dogs Life," most of the songs sound the same as the originally released versions and this disc is best skipped.

Disc four contains songs from Elvis' 1968, 1973 and 1977 TV specials. All of the tracks had been released prior to 1980 and here they are removed from their television and concert contexts. It's nice to hear "Blue Christmas," "Lawdy Miss Clawdy/Baby What You Want Me To Do" and "You Gave Me A Mountain" again but it not necessary.

The fifth disc contained ten songs from various Las Vegas concerts. While the songs are familiar, these particular performances had never been released. "Kentucky Rain" and "An American Trilogy" are both excellent. "Polk Salad Annie" is always a welcome performance by Elvis. "Little Sister/Get Back" feature Elvis on guitar. All in all this was an enjoyable disc.

The sixth disc purports to contain lost singles. Such songs as "Softly, As I Leave You," "Fool," "The First Time Ever I Saw You Face" and "America The Beautiful" may not have been big hits and may be enjoyable but they were never truly lost.

Side one of disc seven would contain four songs under the title; "Elvis At The Piano." Three of the songs were taken from the Fool album but the fourth; "Beyond The Reef" was a rare unreleased Elvis studio track and is excellent. Side two was an unreleased performance from 1975. These last years were not kind to Elvis and the renditions of "Love Me Tender," "All Shook Up," "Love Me" and more are inferior. It is sad to compare these versions to those of the first two discs in this set.

Disc eight takes the 1975 concert to its conclusion with nice renditions of "T-R-O-U-B-L-E" and "Why Me Lord." The hits "Burning Love" and "The Wonder of You" find Elvis in fine form. The album concludes with a seemingly random selection of various songs from all parts of Elvis' career. "How Great Thou Art" is the original version and is always worth a listen. However, we really don't need to hear "Little Darlin" again.

Elvis Aron Presley was a prototype Elvis Presley post death release. Songs would be moved around and alternate and live tracks would surface. It would quickly become apparent that there was no treasure trove of unreleased studio material.

It has now been 31 years since Elvis Presley's death and his music continues to sell. His original releases and all sorts of compilations are being purchased by long time fans and new fans who were not even alive during his lifetime. Elvis Presley certainly left an indelible mark on music but all the more so on American culture.

Tracklisting