Viva Las Vegas
CD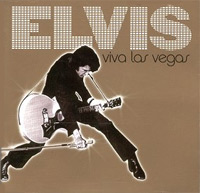 Released: 2007/07/30
by Sony/BMG
Soundtrack for the "Elvis: Viva Las Vegas," ABC television special containing Elvis best live selections and an unreleased concert from August 21, 1969.
ElvisNews review
The latest collection of Sony/ BMG is dedicated to Elvis' "Vegas Years". Is it an essential release?

Design

The design is modern and consequently done. All black and white pictures have a golden touch, mostly the microphone (and its standard and wire). The liner notes by Colin Escott are a bit hard to read (especially the second page). The only information I missed was the exact show for CD 2. Only August 21, 1969 is mentioned (I don't hear any forks or knifes, but I assume it is indeed the dinner show).

Content

In opposite to the US version the first CD has 19 tracks. "Proud Mary", "I've Lost You" and "It's Over" are added to the 16 US tracks. I still think it's a bit strange to open a live CD with the title track, recorded in the studio 7 year before most of the other tracks. Maybe that's just me, or a fan thing. Besides that I love the compilation, even so much I ripped the disc (except track 1) and put it on my MP3-player. The only little problem was that Windows Media Player recognized the CD as the US version, so I had to enter all titles myself...

Another little addition to the European version is a second CD. It contains the dinner show of August 21, 1969. What can I say about that? Maybe that I want them all? Even the fact that the shows do not differ very much can't stop me from wanting that. Elvis at his very best will never bore me. Besides the casual song change the 1969 shows are very much alike. The most remarkable difference might be Hound Dog, which already got the "uh uh, hop two" treatment that it always got in later years. And... this disc too is recognized by Windows Media Player as the US version?!

By the way, the sound of both CDs is very good.

Conclusion

Most fans might want this, if only for the second CD. I'm still puzzled why there are two versions. For the casual buyer the second CD might be a bit too much maybe… even then it doesn't make sense that the first CD has additional tracks in different countries. All I can add is that to my taste it is one of the better official products of this century, maybe even essential to those who want to explore Elvis' Las Vegas years.
Tracklisting