Raised On Rock
CD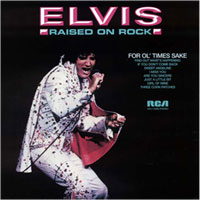 Released: 2007/07/09
by FTD
Classic Album 2CD reissue.
ElvisNews review
The third FTD release this month, the 2CD classic album version of "Raised On Rock" has something in common with the other two ("Easy Come, Easy Go" and "I Sing All Kinds"). Elvis didn't feel like recording at all (with both), there are some very strong songs (like a lot of "I Sing All Kinds") and some very poor (as most on "Easy Come").

Design

As we are used to now, the classic album releases all have a top notch design. The cover art is reproduced (as much as possible) and the booklet contains all necessary information, memorabilia and some nice candid shots and live shots in this case. This particular booklet has tidbits of an interesting correspondence between the Colonel and Joan Deary.

Content

It is obvious from his voice that Elvis wanted to be elsewhere and not in the studio those days in July 1973. Still he managed to record one of my all times favourite ballads, the marvelous Tony Joe White penned "For Ol' Times Sake". Although the remaining songs of the album aren't particular strong I still did like it, since it was so different from other Elvis albums, mainly because of the up-tempo soul-like songs like "If You Don't Come Back", "Find Out What's Happening" and "Just A Little Bit".

The various outtakes on this set do not bring much new, except the usual cursing and banter. Music wise they are all close to the released versions. Only "Three Corn Patches", which I thought to be very weak on the original album, benefits from the trial and error method Elvis used. The longer solos and the backing vocals make it more pleasant to listen too.

Another "highlight" is the rough mix of the title track, which lasts about 20 seconds longer before it fades.

Conclusion

All together it's an okay set. There is a little too much "Girl Of Mine" for my taste (oh, boy how boring can a song be), but the up-tempo material and the beautiful Tony Joe White track make up for that. If I have to play Elvis in "I don't want to, but I have to"-mood, I prefer this far above a stupid soundtrack album.
Tracklisting