From Elvis In Memphis
CD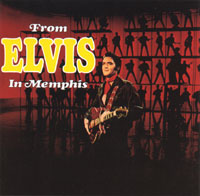 Released: 1969/06
by BMG
One of Elvis' best original albums, containing recordings from the famous American Sound Studio sessions in 1969.


ElvisNews review
Elvis Presley's 1968 NBC special had been well received and critically acclaimed and the resulting soundtrack had sold a million copies. Elvis quickly returned to the studio and recorded one of the better albums of his career.
Elvis decided to stay close to home and record at Chip Moman's American Studios in Memphis. Moman would share producing credits with Elvis' personal producer, Felton Jarvis. The resulting album, From Elvis In Memphis,was a mix of country, rhythm & blues and rock 'n' roll songs. The album, released June 17, 1969, would be a huge pop hit and also reach number 2 on the national country charts. One of Elvis' late career signature songs graces this album. "In The Ghetto" was a significant hit and showed, at age 34, a mature Elvis who was now far from his film career of just a year ago. Released several months before From Elvis In Memphis, this socially conscious song provided the musical foundation and interest for the album which followed.

"Wearin' That Loved On Look" is the first track on the album and is an energy filled romp. Elvis' voice is in fine form as he roars through this song written by Dallas Frazier especially for this album. The old Eddy Arnold country song, "I'll Hold You In My Heart," is given a fine blues interpretation. The Hank Snow classic, "I'm Movin' On," is a combination of classic country with a pop vocal. "Gentle On My Mind" and "Any Day Now" have vocal performances that are smooth like butter. The Johnny Tillotson pop tune, "It Keeps Right On A Hurtin," is interpreted as an effective country song.

The Memphis sessions also produced a number of outstanding tracks that were left off the album and were issued as stand alone single releases. They have been added as bonus tracks to most modern day CD releases of this album. These tracks only serve to make a very good album better. The beautiful and tender ballad "Don't Cry Daddy," the mellow "Kentucky Rain" and the number one hit "Suspicious Minds" were all products of these recording sessions and would keep Elvis in the public eve and on the radio for almost a year. In addition two underrated Elvis performances, "Mama Liked The Roses" and "The Fair Is Moving On" were also recorded at this time.

From Elvis In Memphis proved to be a highlight in the recording career of Elvis Presley. Oddly he would never work with Chips Moman again which was a regrettable decision given the quality of their work together. This album, both the original release and the lengthened CD issues, are essential listening for any Elvis fan.

Tracklisting
Rating: 5 / 5
Rating: 5 / 5
Rating: 5 / 5
Rating: 5 / 5
Rating: 3 / 5
Rating: 5 / 5
Rating: 5 / 5
Rating: 5 / 5
Rating: 5 / 5
Rating: 5 / 5