America
CD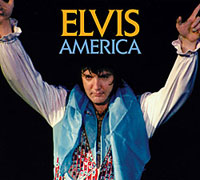 Released: 2008/07
by FTD
A soundboard release with Elvis'concert as recorded on April 22, 1976 at City Auditorium, Omaha, Nebraska.
ElvisNews review
Finally FTD released a soundboard again! Since it was a pretty while ago we got one, the expectations were high. Does this April 1976 gig live up to them?
Design
As all regular FTD releases we get a small digi-pack (to which I had to get used again). The front carries a picture of Elvis in that awesome Bicentennial Suit. The King has a victory look over his audience.
The inside carries of course the detailed information on the tracks, the band and 3 little pictures, one in the Dark blue Aztec suit can be from the Spokane show of April 27, and the other can be from the Omaha show on April 21st. The third is a snapshot of Elvis entering the plane in Spokane, as is a big one behind the CD. The picture on the back in the Aztec suit again is actually the best picture of them all.
Content
This Presley show opens surprisingly with a classic by Richard Strauss, Also Sprach Zarathustra, this overture is best known for its presence in the movie 2001 A Space Odyssey (and to the Dutch probably because of a TV commercial). Elvis starts with a playfully rockin' See See Rider before he goes into that Ray Charles classic I Got A Woman, a song based upon a gospel song. Elvis underlines that with a nice touch by making it a medley together with the traditional Amen.
Next The King does his classic Love Me, written by Leiber and Stoller, the song is brought with the honour a hit like this deserves. Obviously Elvis is still conscious of what happens in the pop scene, since he adapted Olivia Newton-John's If You Love Me for this occasion. Next Elvis bursts out in that beautiful ballad You Gave Me A Mountain which he also brought in his famous Aloha show. That version pales compared to this one!
Elvis' Sun rocker Trying to Get To You leads to more classics: All Shook Up, a medley of Teddy Bear/ Don't Be Cruel and Heartbreak Hotel, great to hear them once more in this live setting that adds something to the well known record versions. Because of the US' bicentennial anniversary Elvis decided to add the beautiful America (also known as America the Beautiful) to his set; it is very moving how his rendition mesmerizes the audience.
After this the King rocks his way through the Tony Joe White classic Polk Salad Annie. This version has much more power than the original. To get his breath back Elvis uses over 10 minutes to introduce his band. The top notch musicians all get their time in the spotlight, often accompanied by very funny remarks by Elvis, like "the background singers are in the front" (which is actually true on this CD). After the intros Elvis bursts out in a convincing version of his recent single Hurt. Elvis brings 4 Hs in a row with the following classic Hound Dog, Help Me and the great gospel tune How Great Thou Art. After this impressing serious performance Elvis enlightens the atmosphere again by fooling around with Little Darlin'. A classy operatic version of one of his biggest hits, It's Now or Never precedes the Willie Nelson penned Funny How Time Slips Away. Way too early the show ends with Elvis' theme song Can't Help Falling in Love.
The show above is almost completely recorded in Spokane on April 27, except the overture and See See Rider, which were recorded in Omaha, nearly a week earlier. As a bonus two more songs of the Omaha show were added: Elvis last big hit (during his life time) Burning Love and the well known My Way.
Well, above a review like a lot of you want them to read. For the more open minded fans: the review is a lie from A to Z. It is really one of the worst shows I have (heard). Elvis sounds completely uninspired. The songs that were mostly acceptable (Mountain, Hurt, How Great Thou Art), even in this pitiful year, are unbearably out of tune, even Hurt sounds like sh*t. Unfortunately the backing vocals were drawn into the misery and since they are indeed very upfront that only makes things worse. The spoken part of Hurt is actually the best part of the show.
While looking up some info I was surprised by a very positive review of the Omaha show and thought it was done by a deaf fan. After sitting through this CD I do have to admit that the two bonus songs are by far the two best tracks of this disc.
Conclusion
Cabinet filler, I really can't imagine that there is someone on this planet that listen to this for pleasure.
Note: I made a stupid mistake above by switching the dates/ locations. Which makes it even more strange that the Omaha show got a positive review back in '76. If you really can't hear Elvis sang out of tune... I rest my case.
Tracklisting
Rating: 5 / 5
Rating: 5 / 5
Rating: 4 / 5
Rating: 3 / 5