Closing Night
CD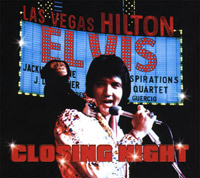 Released: 2004/10/01
by FTD
A soundboard recording of Elvis' show at the Hilton Hotel, Las Vegas September 3, 1973.
ElvisNews review
Decades ago this material was fun to listen to on an audience recorded cassette tape. Does it survive as a soundboard release?

Cover

Normally we write "design" as paragraph title, but this time we couldn't force ourselves to do so. The cover that showed up first on the internet had something that appealed to us, but the final one is about one of the most amateurish ones we have ever seen. Anyone who read "Idiot's Guide To Photoshop" could have done a better job. Elvis looks like he is cut out with a real pair of scissors, the font is too strong, and it is just a ridiculous picture. We prefer an Elvis without funny hats, glasses, suits, toys, underwear, monkeys or Lamar Fikes on his back. Unfortunately it turned out this "design" fits the content perfectly, but still…

On the inside and back we get two stunning pictures of Elvis, why not use these on the front?!? The information is… well, there is no information. In contrary to the complete information the Follow that Dream label adds to the soundtrack and deleted catalogue reissues, the "standard" FTD releases contain less than the bare essentials as far as the information is considered.

Content

The "show" on this CD is the sum of parts of two different shows. The first 7 tracks are from the evening show, while the remaining tracks are taken from the midnight show. The sound is not too good compared to many other soundboards, there is a lot of difference in it, even within some songs.

It is not remarkable that someone's mood can change in a couple of hours, but it is remarkable that an artist shows it this clear on stage. The first seven tracks show a bored lack of interest by our man, he even degrades one of the strongest songs he ever recorded – "Trouble" – into a soporific tune.

Immediately after "Trouble" "the break" leads us to the Midnight Show. The first chords of "Long Tall Sally" managed to wake us up. Soon to find out that Elvis wasn't really serious in doing the medley. And it goes from bad to worse, Elvis is fooling around with the lyrics on nearly every song from now on. This might be okay every now and then (actually, the "JD Sumner and Myrna Smith"-verse in "Fever" comes close to being funny), but this show really is too much. Jacky Kahane was paid to be a stand-up comedian, but Elvis wasn't (and he even wasn't funnier than Kahane, which is an achievement in itself). The way it sounds to us Elvis is "on something" which helps him escape the boredom. It gives him a laugh kick … but listening to it now it is very sad to hear a man caught in a trap like this.

The lyrics of "Bridge Over Troubled Water" on the music of "Suspicious Minds" could have been funny, if it was followed by descent version of any of those songs. But unfortunately that doesn't happen on this CD, the full versions are full of text changes too. Only "My Boy" and "The First Time Ever" and "Mystery Train/ Tiger Man" can have a "more than decent" mark and only a few more are just decent and we had to dig deep to justify these words. Even the band and backing were affected, they sound very flat and uninspired. Since it was the closing of a longer engagement, playing the same songs twice a day, the crowd on stage could have sounded happier.

We knew this decades ago, you might say. Yes we did, and maybe our memory plays a trick on us... but it can also be that because of the quality releases by FTD the last couple of years we got spoilt. What seemed to be funny back then, looks more like disrespectful now. Actually it was disrespectful, not only towards his own music, but also towards his audience. Probably his charisma compensated his behaviour for those that were present, the photos inside show a good looking Elvis, but you don't get that charisma on this CD (especially looking at the front cover while listening).

Conclusion

If not for (FTD) collecting reasons only, you might want to stay away from this one. We prefer the "bonus" CD that came along with this one, the soundtrack of "Double Trouble" that was released at the same time, which says enough. It seriously looks like FTD is getting out of material earlier than we expected scraping the bottom of the barrel for material like this.

Fortunately we have "On Tour" material to look forward to!
Tracklisting