For The Asking (The Lost Album)
CD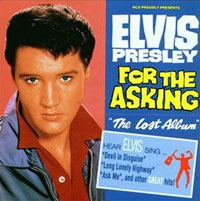 Released: 1991/11
by BMG
This is a must for all the fans, no matter what period you like best, it belongs in every collection.
ElvisNews review
Looking into my collection I came across this old CD 1991 release "For The Asking". The subtitle: "The Lost Album" makes you think there are some strange songs upon it…but no, this album contains songs that were used as b-side for some singles. All the songs were recorded 1963 and 1964 in Nashville. It's the same concept as the "Burning Love" album. That's an album that should have been released during Elvis lifetime too.



Cover Art



BMG used various covers for this release around the world. One with a picture of Elvis and a real sixties style lay-out. Well chosen when looking at the songs. The other version is has a torn open paper wrapping, probably referring to a "find of something that was lost".



Content



Let's listen to those recordings with the headset on…Long Lonely Highway. The rhythm is there right from the start…thanks to D.J. Fontana…and the Jordanaires are doing their best too. But most important is Elvis' voice, smoothly as ever on this one…. Western Union follows…the tune is easy to listen to, but a bit too much like Return To Sender. Witchcraft: I don't know why, but this song is not very special…the only reason I do like it, is because of the sax solo of Boots Randolph, which is lovely to listen to. Love Me Tonight starts".. with the very recognizable piano playing of Floyd Cramer in it. Elvis' voice is warm and sincere as ever…What Now, What Next, Where To, lovely lines, but a bit boring melody, so to use the title of the next song "Please Don't Drag that String Around", This song is kind of up tempo again… although not the most inspiring song of this release, but cheerful enough.



Blue River, hard to sing along, because it is real up tempo song…but Elvis manages to sing it with an easiness that surprises me. Ah, Never Ending is next…a true favourite of me. Elvis' voice is so beautiful on this one, the warmth in his voice brings tears in my eyes….no matter how many times I hear this song. Listen to the guitars… lovely! Devil in Disguise, the changing of tempo in this song is nice to listen to. Finders Keepers, Losers Weepers goes on in the same way….although the lyrics are not very special. The tempo decreases with Echoes of Love, a lovely ballad, in which the Jordanaires are a pleasure to listen to. A real beauty follows……Slowly but Surely, the music is as good as Elvis' voice: so nice and easy. It Hurts Me got a real special place in my heart. Here the voice of our hero got its strength which I love so much. The warmth is astonishing… The real up tempo Memphis Tennessee is next…….this is the Elvis I wanna hear. Beautiful lines and my fingers can't stop drumming here. A real dated song Ask Me follows. The organ bothers me a bit….why not a piano here ..but who care. It is beautifully sung and a real good ending to this CD.



Conclusion



This is a must for all the fans, no matter what period you like best, it belongs in every collection. You won't be sorry to spend your money on this one.

Tracklisting