Studio B: Nashville Outtakes
CD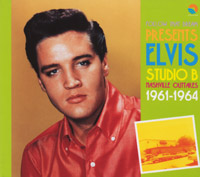 Released: 2003/04
by FTD
Nashville Outtakes on FTD Records, follow up to Fame And Fortune
ElvisNews review
Follow That Dream Records came with 4 CD's last week, three upgraded soundtracks and a regular FTD-release. Later this week we will focus on the soundtracks, now we will shine our light on the follow up to "Fame And Fortune" titled "Studio B".

Design

A marvelous publicity shot of Elvis is surrounded by a shade of green that looks like it's poisoned. With sunglasses on it is bearable, but unfortunately we don't have magnifying sunglasses, since the track listing on the inside is very hard to read because of the font chosen and the color setting. Of course it's all a matter of taste, but this cover isn't among our favorite ones – despite the great shot on the front and two nice candids used.

Content

The content of the CD sure carries no poison like the cover suggests. It's more like a magic potion that only Elvis Presley could prepare. From the very first line, "Kiss Me Quick" a capella, to the last notes of "Ask Me" Elvis captivates you in his magic lab called Studio B.

Of course the negative share of Elvis fans will complain that there is nothing new on this CD, and they are right if you have a series of bootlegs. Still we think this is an essential release, since the sound quality is better than on any import release so far. The "Unsurpassed Masters" series comes close, but a lot of people might not have them anyway (and some of the takes are only available on these boxes).

"Studio B" is pure listening pleasure, with many highlights: especially the takes of "His Latest Flame" and "Little Sister", but also "Just Tell Her Jim Said Hello" and "Memphis Tennessee" give the urge to press repeat.

The only negative thing we can't think of regarding content is that there was space left on the CD, there could have been a quarter of an hour more magic on it.

Conclusion

"Right On Target" is all we can say, in our book it is among the best FTD-releases so far, not as good as its predecessor since the material is just a little less, but still among the best. We are looking foreward to the third part of these "Studio B" sessions, like Ernst Jorgensen promised us.
Tracklisting