Junichiro Koizumi Presents My Favourite Elvis Songs
CD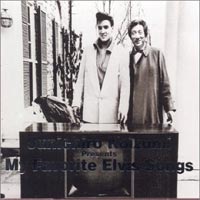 Released: 2001/08/22
by BMG
Favourite Elvis songs, selected by Japanese Prime Minister.
ElvisNews review
The thought immediately came to Tad Akazawa (EPFC President) when he for the first time heard one of his longtime backer-politicians, Junichiro Koizumi took the post of Prime-Minister-ship to the country. Could there be any more windfall chance ever to serve Elvis fan club in Japan than the new Prime Minister is an avid Elvis fan? Indeed he is not just a casual listener of Elvis songs but his dedication to Elvis cause has been more often than not crucial source of help for the activities of the fan club, for instance, building of Elvis statute in Tokyo among other things to name. So what? In what way can Tad make the most of this bonanza?... A new Elvis CD of which the entire track list is to be chosen by the Prime Minister himself! Tad rushed to BMG Funhouse Japan and preached his idea. Through the longstanding personal confidence of the Prime Minsiter's younger brother, Masaya Koizumi, Junichiro's personally-selected song list was awarded to Tad.
That is the story behind the scene when the CD "Prime Minister, Junichiro Koizumi presents his favorite Elvis songs" was finally placed for sale August 22. One of BMG staff exulted "the first lot (it is said to be 50,000 copies) are all gone hot off the bat and we need distribute more to the market".
The smash hit like this is truly rare and a surprise to the industry if the products are of artists who deceased long time ago. Was it simply attributable to the Prime Minister's high-flying popularity rating? Or the time now is in for more somber recognition of the greatest singer of all time, who has been forgotten by some people only for a while? The answer is yet to be seen. What is unmistakably clear is there would have been no dashing crowds in front of CD stores on that first day of sales if the name, Junichiro Koizumi weren't on the jacket cover and unless he still stays as an idol of a kind (in no way comparable to Elvis, though) among middle-aged women constituency thanks to his unique charm and life style, if not political power.
Being aware of this or not, Graceland gave a consent to BMG running into the gimmick of computer-processed jacket photo in which Japan's Prime Minister took the place of Colonel Tom Parker. From artistic viewpoint, it is hard to say they did a good job in creating a virtual two-shot of Elvis and the Prime Minister. But, anyway, they are both beloved "stars" who were rendered unprecedented popularity, one in the world of music and one in the local politics. BMG seemed to have needed nothing more to induce shoppers' buying impulse.
Finally, let's look at the choice of Elvis songs by the Prime Minister. The song list proves to be well balanced and spread thin over early 50s to part of 70s. Any more adequate compilation of Elvis' songs is hardly imaginable than 25 track listing in this CD if you want to buy a beginner's first guide for moving up into the core of Elvis fandom. You cannot find such routines like "Love Me Tender" or "Hound Dog". Instead, this CD covers 2 gospel numbers "Evening Prayer" and "Amazing Grace" as an introduction to the cream of Elvis world.
It is so much interesting to see the track list includes as many "message" songs Elvis had ever sang in his life as it only lacks "In The Ghetto" to complete the list. Namely, "Bridge Over Troubled Water", "If I Can Dream" and "The Impossible Dream", reflecting the fact that the songs were compiled by an active politician who is now faced up with hard-cold challenges. Is he a man of love romance? Should his favorite dramatic ballad numbers fill the void in his single life after divorce, songs like "You Don't Have To Say You Love Me", "First Time I Ever Saw Your Face" and "My Boy" are correct choices. He has been "Separate Ways" with his three sons since he parted with his ex-wife.
For those who complain about rock'n'rolls are too few, Elvis' favorite barber-shop doo-wops like "That's When Your Heartaches Begin" and "Have I Told You Lately That I Love You" will enlighten them about Elvis' surprising agility in mastering different kind of songs even in 50s.
All in all, this compilation CD is the best buy for those who wants to move one level up from the beginners to full-fledged supporters of Elvis music even if he or she is not a type who dashes to every election campaign stops just to see Jun-chan (nickname) in the flesh. 
ElvisNews likes to thank Corky "Tylor" Kitahira for writing this review.

Copyright: 2001 Corky "Tylor" Kitahira

Tracklisting
Strange compilation, indeed, but it's good to have a different tracklisting for a change.
Rating: 4 / 5