Take My Hand: Gospel Favourites
CD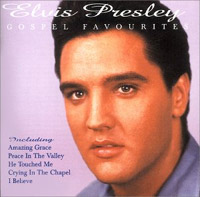 Released: 2000
by BMG
The first time at low price for this superb collection of gospel and religious songs.
ElvisNews review
Recently several newsgroups and websites mentioned the appearance of this Gospel CD. In different parts of the world it has been released a couple of months ago, other parts are still waiting for the release. Perhaps this review can help you determine if you're waiting in vain.
This release is a low-price CD from Camden, and according to the information, released in 1999. Reading the fine print it has been produced in 1998, an error or ...
Looking at the artwork, we can conclude it's simple. For the front- and backcover they used two pictures several times. One of them was also used for the RCA release "Amazing Grace". Inside the booklet there are two pictures of Elvis with The Jordanaires (and Millie Kirkham) and The Imperials. Inside the booklet there's a three page story about Elvis' Gospel recordings and the place they had in his life. 

The compilation is a nice one, lot's of spirituals in which you can really feel the spirit like "Working On The building" and "Joshua Fit The Battle". And of course the real gospel classics everybody knows; "How Great Thou Art" and "Crying in The Chapel". Two tracks, "Turn Your Eyes Upon Jesus" and "Nearer My God To Thee" were first released on "Amazing Grace" and aren't too often seen on compilations so it's nice to have them on this CD, especially for those who don't have "Amazing Grace". The quality of the audio is good, all stereo tracks are in stereo, unlike the Christmas Album which was released last year. 
Conclusion:
The first time at low price for this superb collection of gospel and religious songs. The release illustrates the outstanding range of a singer at home with rock n' roll as well as something more sacred. Includes a great hit like "Crying In The Chapel" and standards like "I Believe", "Amazing Grace" and many other Gospel Favourites of course. A nice collection for a nice price if you don't have "Amazing Grace".

Tracklisting
Just like a summer TV re-run, but the religious songs by Elvis Presley are the best of any artist. the feeling is there, so i say buy it and if you cant afford take a 2nd mortage on your house, motorcylce or bicycle, but Buy it
Rating: 5 / 5
How couldn't you afford this CD? It's a CAMDEN! Very god selection of Gospel songs, I really like it... Buy it!
Rating: 5 / 5