From Hawaii To Las Vegas
CD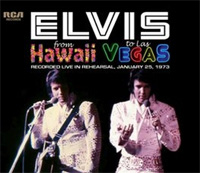 Released: 2012/07/05
by FTD
Rehearsal January 25, 1973
ElvisNews review
FTD brought a "real" FTD in their last batch. Material not released before of subpar sound quality (according to the warning on the cover), especially for the fans: rehearsals for Vegas on January 25, 1973.
Design
If not the sound, then the design is subpar. The compilation of live pictures looks very messy and the fonts and lay-out of the text could have been better too.
Content
The sound quality is not superb, but comparing to a lot of stuff released before it isn't at all that bad and very listenable. The rehearsal contains merely songs you might expect in this period of Elvis' career.
Something is one of my personal favourites and also this version is no disappointment. There's a powerful Steamroller, I'm So Lonesome and Welcome to My World with some lyrics changing are pretty good too. The version of I'm Leavin' It All Up To You is after some hesitation tight, but very short. Faded Love is a bit messy…. Then it's time for the highlight(s) of the CD: Separate Ways. Both the version with the orchestra and the one without (which I prefer a little above the other) are very good. It's a sin Elvis decided not to do the song during the engagement or later shows. A more than decent version over Bridge Over Troubled Water precedes a messed up Can't Help Falling In Love.
Conclusion
A pleasant surprise by FTD. Only the two versions of Separate Ways are enough to make this release worthy… all other songs are a nice bonus!
Tracklisting