Elvis Sings Memphis Tennessee
CD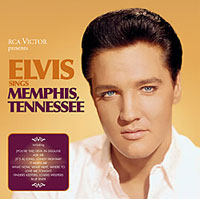 Released: 2008/07
by FTD
2CD release of The Lost Album (For the Asking) in Classic Album series.
Tracklisting
I'm not fond of the CD-album cover photo, but its the music that counts and this is a Album of great material !!
and i'm not fond of your reaction concerning the cover-photo. it's a great looking picture of our man..i have it as wallpaper on my desktop. what in heavens name is wrong that picture? jeeezz...
Rating: 3 / 5
Aaron, chill out friend. I don't like the pic of Elvis on the CD cover because he looks "too hollywood slicked down". I like his hair, longer, looser, and more on his forehead.