Pot Luck
CD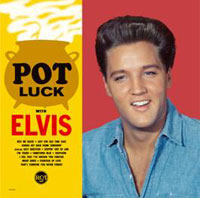 Released: 2007/11/12
by FTD
Follow That Dream collectors edition of the "Pot Luck" soundtrack album with previously unreleased bonus material. Packaged in deluxe, fold-out format (7" EP size) with booklet featuring photos and memorabilia. Vic Anesini and Sebastian Jeansson have remastered the material, making these recordings sound better than ever.
ElvisNews review
Next to "Mama! Mama! Mama!" (a.k.a. "Girls! Girls! Girls!") FTD released a 2CD version of the 1962 album "Pot Luck with Elvis".
Design
The sleeve contains next to the original cover art the nice publicity shot we used earlier this week as picture of the week. As usual the 2 CDs represent the labels of sides 1 and 2 of the original album. The 16 page booklet contains next to the detailed information some great shots and a lot of more cover art of singles related to this album.
Content
I always thought this album was a well balanced one. Next to some catchy pop tunes like "Kiss Me Quick", "Easy Question", "Fountain of Love" and "Night Rider" it also carries beautiful ballads like "Just For Old Time Sake" and "I Feel That I've Known You Forever". As if those feel good tracks are not enough the album contained two songs that I consider to be among his best post army material: "Suspicion" and "That's Someone You Never Forget". Especially the first one will be in my personal top 10 any time.

Add to the original tracks the singles from those sessions ("She's Not You", "Just Tell Her Jim Said Hello" (another personal favorite) and "You'll Be Gone"), two leftovers used on "Elvis For Everyone" ("For the Millionth and Last Time" and "I Met Her Today") and you have an even better compilation.

The first CD is completed with first takes, of which "Suspicion" immediately draws the attention, it sounds quite different from the master.

The second CD is a compilation of outtakes of which nine are previously unreleased (at least officially). More of the same you can label it, but I prefer (in this case) to express it as "more pure listening pleasure".

About the sound I can only say it sounds great in my ears.
Conclusion
It is like Meatloaf once sang… "Two out of Three Ain't Bad". The latest bunch of 3 FTD discs brought me 2 CDs I will play quite some more, and they both are in the same sleeve!
Tracklisting