Loving You
CD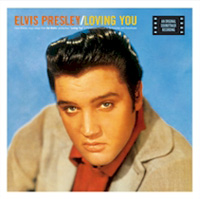 Released: 2006/01/09
by FTD
2CD version of "Loving You", restored by Kevan Budd, with unreleased movie versions of the songs and on disc 2 all takes of Elvis recording the title song "Loving You" on February 14, 1957 and 15 takes of the main version in binaural as an extra bonus.
ElvisNews review
The new outing in the FTD "original soundtrack series" is the soundtrack of Elvis' second movie, "Loving You". Do we love it?

Design

As with every release in this series the artwork is near perfect, and close as possible to the original. A nice booklet with details on the movie and the soundtrack and the recording illustrated with memorabilia and pictures of Elvis at work in the studio. This edition contains two CDs with original album labels, both the A and B side this time, as decoration. No complaints here.

Content

We must ask the question if we need a new release of this classic soundtrack less than one year after we had a remastered (DSD) edition. Since this release is on the collector's label the answer (of the fans) can only be "yes", since we hope to have bought the definitive edition of this soundtrack. But there is a nagging feeling ... buying the same material again for the additional tracks. If you start a series like this, you should finish it (as long as they are sold), at least as producer, the fan can always reconsider. And Joe Public won't find this release in many stores.

Content wise we can be pretty short… not much new here. The first CD contains some great rockers like "Teddy Bear", "Party" and the swinging "Got A Lot O' Livin' To Do". We always wondered why this song is never considered for a re-release since it is fun, upbeat and has a video clip. "When It Rains It Really Pours" has a great bluesy sound and feel while "I Beg Of You" has the raw sound that made the difference in Elvis' early recordings and a fantastic previously unheard out-take the classic "Mean Woman Blues". Great songs.

As with more of the recent DSD remasters, we didn't hear any quality difference between them. The out-takes show a little variation, but no really different approaches to the songs, Elvis knew what he wanted - and probably had - to record.

Disc two is a different story. Since the title track wasn't among our favorite songs, we regard it next to "Don't", as being one of the most dull songs Elvis recorded in the 50's, so we skipped thought it for now, trying to find some new sounds. But the original and the few outtakes on the first disc were more than enough to us. For the real collectors it is a nice gesture of Ernst and company to release all the material of the song they have on one disc, until now we only found this on bootleg releases. But it isn't really a CD you put on having friends over. We'll give it a second spin at a quiet moment, following Elvis in the studio recording this song. Hopefully we'll get a release like this with some more exciting tracks.

Conclusion

Yes we know, we are spoilt, both positive and negative. Spoilt as fans that get a great release like this of one of the classic albums of their favorite performer, and spoilt that some of the extras on this release don't really excite us anymore. If you feel differently, please express so through the FTD Top 20.

To close of on a positive note, this is a nice product for the eye, a nice – and hopefully definitive – release for the collection, with some great classic performances by our man.
Tracklisting