Elvis At The International
CD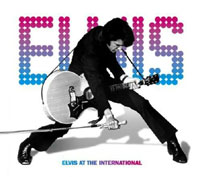 Released: 2002/12
by FTD
August 23, 1969 Midnight Show
ElvisNews review
Recently BMG released another complete 1969 show. After the Dinner Show of August 24 in last year's "Live In Las Vegas", we have now the Midnight Show August 23.

Coverart

Without any doubt this is one of the more tasteful and original Elvis-covers so far. Not a very hard thing to do with an artist looking this good. The picture on the front cover may be worn out a bit, but it expresses the power and dynamics of Elvis in 1969 perfectly. At the inside you'll find the track list with all necessary information and some marvelous candids, one of them with Fats Domino and two live shots. It is a shame that FTD didn't release this CD with a cover in the old fashioned LP-format. Behind the CD some souvenirs from the 1969 engagement are hidden. At the back another well known live shot completes the beautiful cover art. The two minors we can find on this cover is the strange fact that the track numbers are printed bold and not the song titles. Well, some fans can use a lesson in counting. This CD could help were it not that the tracks and the numbers on the cover don't match with the tracks on the CD. The producers forgot to count one track.

Content

What can we say? The collector, at whom this release is aimed, will know what to expect of a Las Vegas 1969 show; The King Is Back! Elvis shows the audience the rocker he is with some very energetic performances. The most remarkable song in the show, "Reconsider Baby", saw the light of day earlier in the "Collector's Gold" box, but it is great to have it in a real complete show.

"Memories", that could have been remarkable too, is decorated with a lot of smacks. We are glad Elvis used worn-outs like "Love Me Tender" in later years for these kissin' sessions. Gladly the monologue is where it belongs in the show, and not at the end, like on the "Live In Las Vegas" box. Talking about the monologue, it is about the same as the previous released one, so it is long, very long. Overall Elvis is very relaxed, resulting in a lot of interaction with the audience and mixing up the lyrics ("I'm All Screwed Up"). He still needs to practice his stage performance a bit, two rockers in a row ("Suspicious Minds" and "What'd I Say") are a bit too much, he looses his breath on the last one.

Conclusion

Honestly we can only say it is more of the same, but we are very, very glad to have it, this disc will be in our CD player the next few days. We would be the last to blame FTD for releasing one 1969 show a year, especially when it has beautiful artwork like this release.
Tracklisting