Elvis Sings...
CD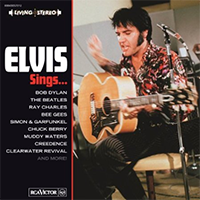 Released: 2014/06/16
by RCA Victor (Sony)
Compilation of covers by Elvis.
Tracklisting
Lou A
wrote on
July 30, 2014
I just got this as an import from Amazon UK. The mix of songs hang together nicely. Got My Mojo seems like a slightly different edit than we've had before. Ill have to compare it. It's nice that Sony still has room on it's release schedule for Elvis.
Rating: 5 / 5