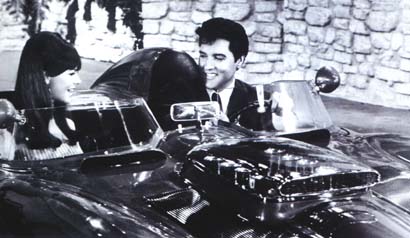 Taken on:

1967

Source:

Elvis Monthly, no. 448

Photo:

Elvis with Shelly Fabares in Clambake

Location:

Movie set Clambake

Info:

During the movie years Elvis was romantically linked with nearly all of his leading ladies, with the exception of Barbara Stanwyck. How many of these stories were true it is impossible to say, though no doubt many were made up by film companies to give extra promotion to the movie they were making. One lady from those movies, who was not romantically involved at all with Elvis but was a very good friend, is Shelley Fabares. She was Elvis' favourite co-star. Shelley recorded (a.o.) three songs which were also recorded by Elvis, faster tempo versions of Love Letters, True Love and a version of It Keeps Right On A Hurtin' very similar to Elvis' arrangement, which he was to record seven years later at the famous American Sound Sessions. Also recorded were What Did They Do Before Rock 'n' Roll, which mentions Elvis in the lyrics, and Bye Bye Birdy which is more associated with Ann Margret and is based on an Elvis-type performer. Shelley continued to make records for much of the 1960's. Shelley Fabares made three movies with Elvis; their first film together was Girl Happy. One of the reasons Shelley was chosen for the part in this Elvis film was, no doubt, due to her enormous success on the Donna Reed Show and her popularity as a singer at that time. The second film was Spinout. The most famous incident about this film was something that happened during the shooting. In the movie Elvis kisses Shelley and when it was filmed the kiss went on for three minutes after the director shouted "cut" - just like the scene in Jailhouse Rock. After the screen kiss Elvis said that things can really get tough sometimes, especially with someone like Shelley. "I respect her so much but I'm attracted to her too. But my life is complicated enough and I have to keep things on a professional basis, it's the only way to go. Hey, she has a husband you know." The final movie Elvis and Shelley made together was Clambake, in 1967. The film was due to start production early March but was delayed until the final week of the month, when Elvis tripped over a TV chord in his Bel-Air home striking his head in the fall. There was no serious injury but he was severely concussed. It was during a break one day, in filming that Elvis told Shelley about his upcoming marriage to Priscilla. This was a closely guarded secret with only family and a few of the 'Memphis Mafia' knowing. The fact that Elvis confided in Shelley just confirms the friendship and trust between the two, Shelley was the only outsider who knew. The filming of Clambake finished on 27 April, 1967, and Elvis and Priscilla got married on May 1st. Shelley gave an interview about working with Elvis where she said the following: When asked about Elvis and the man behind his star image she replied, "He is a good friend." When the press wanted more from her than this one quote she answered, "If Elvis wants people to know about his private life, such as what he prefers to lunch etc, then that information should come from him. I'm not trying to be mysterious or difficult and I was never instructed not to talk about Elvis, it simply isn't my place to discuss other people for publication. The way Shelley dealt with the press, who were obviously trying to dig the dirt, is one of the reasons why Elvis trusted her so much. So many other leading ladies had told all to the gossip mag's to enhance their careers but Shelley kept tight-lipped which won Elvis' respect.
Login to give your opinion