Are You Lonesome Tonight? (CD-single)
CD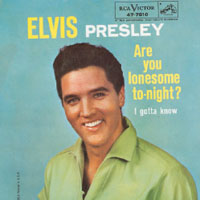 Released: 2005/01/31
by BMG
A detailed re-release with original USA cover art. With I Gotta Know / Are You Lonesome Tonight? / Are You Lonesome Tonight (Bonus Laughing Version)
ElvisNews review
The sixth single to be released, the fifth in a series of seventeen re-releases eligible to chart.

Design

As with the previous single releases this CD-single comes in the original US cover for the outer sleeve, the inner sleeve contains a copy of the original UK wrapper, a standard RCA sleeve. The vinyl edition only has the original UK sleeve, so no picture sleeve. Yes we know we are repeating ourselves … and believe us we will do it more with the upcoming twelve singles.

Content

This single contains the songs "Are You Lonesome Tonight" coupled with "I Gotta Know" and the famous laughing version of the title track as a bonus.

The title song is one of Elvis' best know performances; it has been featured on countless releases over the years. But that is not without reason, the song is very strong and Elvis sings it with a tear in his voice. Or as a Billboard reviewer stated it "nobody could sing a love song like Elvis". Appreciated even more that the original version is the laughing version of the title track. No matter how often you hear it, a genuine laugh cracks you up every time.

The flip site "I Gotta Know" sounds like a no nonsense easy listening fifties song with matching theme. Elvis could have sung this one a bit less loose, with more aggression.

If BMG is smart, they use this song to promote the "Love Elvis" compilation which was released last week, and vice versa. Using the laughing version in the advertisement for this single could draw some extra buyers too. A lot of people simply want this version in their collection.

Conclusion

Last week Elvis topped the chart again, this classic, coupled with the laughing version should be able to do that trick again.

For those who don't care too much about the charts, these detailed reproductions are real gems to collect on either CD-single, vinyl (or both …).

Quiz!

Courtesy of BMG Nederland you can win a copy of Elvis' single "Are You Lonesome Tonight", simply use the banner in the left menu on our portal.