All Shook Up (with special collectors box)
CD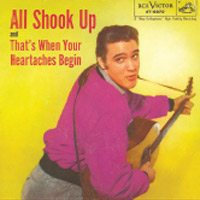 Released: 2005/01/03
by BMG
A detailed re-release with original USA cover art. This first single comes with a special collectors box for the complete 18 singles series.
ElvisNews review
To celebrate Elvis' 70th birthday The Official Elvis Presley Fan Club and Sony BMG came up with the idea to release all of his 18 UK #1 hits over 17 consecutive weeks from January 3 to April 25, starting with "All Shook Up" and ending with "A Little Less Conversation".

Sony BMG hopes that by releasing all of Elvis's previous chart-toppers he will be able to claim the coveted 1,000th number-one slot early in the new year. Besides that "milestone" Elvis can also gain several other records as most #1's, most Top 10 singles and most singles listed at once in the chart.

Design

The collector's box of these old singles has a very modern design. The theme of this series, "1" is presented in song titles. When you lift the top, it shows all the original release dates. The lucky Dutch fans also get a special collector's pin with the same "1".

The hits are released on vinyl and CD-single. The last one actually has a vinyl look and feel. For the cover the original US covers are used because the original UK singles all had standard covers. These standard covers are used as inner sleeves. The vinyl version doesn't have the US cover, just the UK cover.

We must compliment the designers for the attention they paid to the details; the CD-single is completely black, both the front and back and has vinyl grooves and the original label (disregarding a few changes due to legal reasons) on the top side. All the stickers to promote the series and barcode can be removed to display the original cover art.

Content

The CD-single contains three songs; the original A and B side and a bonus track. The "All Shook Up" single has "Heartbreak Hotel" as the bonus track. This looks kind of strangle, the first Elvis hit never made it to #1 in the United Kingdom.

Due to strict chart rules "All Shook Up" is ineligible to chart because it will come in a collectors' box, so "Jailhouse Rock" will be released on the same day. The "Jailhouse Rock" single contains "Treat Me Nice" as flip side and the movie version of that song as bonus track.

Conclusion

This idea is a great way to celebrate the 70th anniversary of Elvis Presley. Just like last year, when the single "That's All Right" reached #3, our man can make chart history again.

For those who don't care too much about the charts, these detailed reproductions are real gems to collect on either CD-single, vinyl ... or both :-).