Artist Collection
CD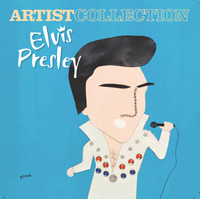 Released: 2004/10/12
by BMG
14 track compilation from the "Artist Collection" series. The artwork is done by the artist Piven.
ElvisNews review
As part of a new popular music series titled "Artist Collection" BMG's label RCA released another Elvis compilation.

Design

This time we actually have to talk about coverART since the well known artist "Piven" created the covers for this series. The Elvis cover has The King's image composed by using a piece of cheese with alfoil for his mouth, pieces of leather fixed by a rivet punch for his eyebrows and star studs around his neck.

Fan's reactions were not very positive, but browsing the covers of the other artists we Elvis fans should feel very lucky. Just browse the special website BMG put on-line or the booklet.

Content

The compilation by itself is not bad, SUN, early fifties, sixties and a few seventies tracks including titles as 'Crawfish" and "Guitar Man". With only fifteen tracks to cover Elvis entire catalogue each choice is disputable, so we won't go into that. What we do want to mention is that all tracks are pre 1972 again, earning BMG the big bucks since they own all rights on these recordings. Why doesn't BMG keep an eye on the fans every tenth mass market release and add one or two of the later performances of our man?

Conclusion

This release for the mass market will serve its purpose, especially as part of a series with "old" and "new" and popular artists as Santana, Kylie Minogue, Toni Braxton, Run DMC or TLC. Fans can skip this one, or get it for an "original" Elvis artwork. The commercial info on the latest Elvis CD and DVD releases inside the booklet may help the new fans in their first steps collecting some decent Elvis releases.
Tracklisting