Double Trouble
Video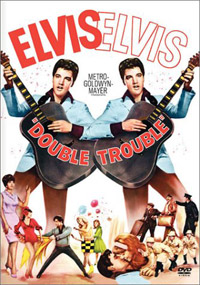 Released: 2004/08/03
by Warner Brothers
ElvisNews review
Case Number 4919 Double Trouble

Reviewed by Judge Bill Treadway DVD Verdict

The Charge

Elvis finds love, larceny and fun—on the double.

Opening Statement

After the solid box office success of the extremely underrated Spinout, Elvis Presley entered 1967 with promise of an even better year at the movies, qualitywise. That was not to be. The long-shelved Easy Come, Easy Go was finally released and flopped at the box office (justifiably so). Clambake was a major disappointment with a flimsy plot, terrible songs, and a general contempt for the overall proceedings.

Then there was Double Trouble, a lively, entertaining comedy. Sandwiched between the aforementioned stinkers, Double Trouble has gained a poor reputation over the years. Despite some flaws and middling box office, however, this film is well worth seeing.

Facts of the Case

Guy Lambert (Presley) is wrapping up a lengthy London tour with his band. While in London, Guy has fallen for the gorgeous Jillian Conway (Annette Day), but whenever he attempts to put the moves on her, she shies away. Guy is perplexed by this, but he soon discovers that Jillian is a 17-year-old heiress set to inherit a fortune.

Angry, Guy storms off to Brussels, unaware of several things. First, Jillian has followed him after her uncle Gerald (John Williams, Sabrina, Family Affair) shipped her there. Second, two bumbling jewel thieves have smuggled diamonds across the border by hiding them in Jillian's suitcase. Third, there have been attempts on Jill's life, with several surprising figures involved. Fourth, a mysterious admirer (Yvonne Romain) keeps following Guy everywhere he goes.

Can Guy figure his way out of the jumbled traffic jam of coincidences and double-crosses before it is too late? You'll just have to watch to find out.

The Evidence

Double Trouble is not the great Elvis Presley film everyone wanted. However, it is a good Elvis Presley film. It is an entertaining comedy that doesn't quite work overall but is loaded with such ambition that one can forgive the excesses. After two of Elvis's worst films, here at last is a decent follow-up to the superb satire Spinout.

Jo Heims's screenplay is loaded with neat gimmicks and good plotting. Much of the plot in bare-bones form would make a nifty suspense thriller. Double Trouble often shifts tones without warning, though. Most of the time it works as a comedy. However, there are elements of drama, suspense thriller, and slapstick. I admire the ambition of Heims's screenplay: This could have been an average, ordinary story involving the romance between Guy and Jill. I praise Heims for daring to put some ambition in the story by juggling the multiple tones, a technique that is successful on the whole. It is as comedy that Double Trouble works best. The last third of the film is particularly breathless in extracting major laughs from a tense sequence of events. The entire business of the jewel thieves made me smile.

There are some flaws in the film. Despite the presence of the now-classic tunes "Long Legged Girl" and "Could I Fall in Love?," the music isn't a very successful element here. Heims's well-woven story gets us so involved on an emotional level that the songs feel obtrusive, leading to an annoyed audience. Besides, most of the songs simply aren't up to par. Elvis has done better, both before and after Double Trouble. Second, the pacing of the picture is a real problem. The first twenty minutes are deliberately paced. Since this portion is setup, I could understand why it was slower than the rest. However, presenting a slow first act and briskly paced second and third acts does create some disorientation. Some will turn off the film before it gets good.

The third major flaw is in the acting. Overall it is a mixed bag of both miscalculations and well-tuned performances. Elvis's work isn't as solid as in his earlier, better films. At this point in his career, Elvis was becoming dissatisfied with the standard vehicles his manager Colonel Tom Parker "advised" him to make, and one can see the dissatisfaction in his performance. Also, the shifting tones didn't help his performance one bit. Leading lady Annette Day is quite good as Jillian, Guy's would-be love interest, but Double Trouble would be her sole acting credit. That is a shame, because she exudes a freshness and vitality that most of Presley's female costars of the period didn't. On paper, the supporting cast looks solid, but on film, it doesn't work out as planned. John Williams's cold-blooded uncle doesn't fit into this film, and neither does his dry interpretation of the character. Leon Askin is too willing to play his dimwitted police detective for cheap laughs. The Wiere Brothers inject life into the film as three haphazard detectives on the trail of Guy, however, and Chips Rafferty and Norman Rossington are a delight as the jewel thieves. Yvonne Romain's Claire makes an effectively enigmatic figure within the craziness of the plot, and Michael Murphy's cool killer is particularly creepy and effective.

Warner Bros. presents Double Trouble in a nice 2.35:1 anamorphic widescreen transfer. We are not getting the complete aspect ratio, however—in their 2002 Presley marathon, Turner Classic Movies presented a transfer featuring a 2.55:1 aspect ratio, much closer to the early Panavision ratio than the later, "fixed" 2.35:1 models. Little of consequence is cut off, but there are times when people appear incomplete on screen. Other than that, the transfer is quite lovely. There is some light grain and occasional blemishes, but they do not detract from the overall beauty of the transfer. Colors and flesh tones are particularly sharp, and the contrast in blacks is impressive.

I wish I could rave as enthusiastically about the audio department. The Dolby Digital 1.0 mono track is a disappointment. Double Trouble features the worst sound mix of the five Elvis discs I have reviewed. While the musical numbers come through splendidly, dialogue is often tinny and hushed. I had to keep adjusting the volume on my speakers until I finally switched the subtitles on in frustration. After their solid aural work on The Trouble With Girls, Spinout, and It Happened at the World's Fair, it was disappointing that Warner Bros. dropped the ball with Speedway and Double Trouble.

The sole extra is a four-trailer gallery of the Presley films Double Trouble, Spinout, Speedway, and The Trouble With Girls. All are presented in 2.35:1 anamorphic widescreen and are in surprisingly great shape.

As a final note, Warner Bros. lists only English, French, and Spanish subtitles as being available on the six Elvis discs they have recently issued. This is misleading, as subtitles are also offered in Bahasa, Chinese, Korean, Portuguese, and Thai.

Closing Statement

Double Trouble is more than enjoyable Presley fare. With a nice affordable retail price of $14.95 (which means this disc will sell for ten dollars in most stores), it's hard not to make this disc a part of your Elvis and/or DVD collections.

The Verdict

Warner Bros. has usually done solid work with the Elvis discs, but they are urged to look into the sound mix for Double Trouble. It just doesn't measure up to the high quality of the other discs.

As for the film itself, I will let it go with a warning. Despite some minor quibbles, it entertained me, and that is what counts at the end of the day.

As for the King, how could I find him guilty?

Case dismissed.
nice picture cover, may cause people to give buying this movie a reason to put on their shelf.
Rating: 5 / 5