Elvis - The Journey
Video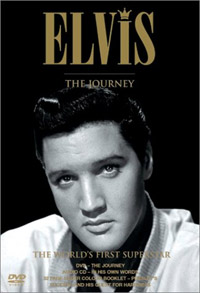 Released: 2003/06/13
Biograph DVD which includes an interview CD and booklet.
ElvisNews review
Elvis The Journey, a DVD with a CD and booklet, is it worth the Journey to the shop?

Design

The cover is attractive with a classic image of Elvis on the front, attractive enough to pick it out of the rack. The booklet is well designed in the same style.

Content

The content contains three parts, a DVD, a CD and a 32 pages booklet. The DVD is the main part of this release of course. The title "The Journey" is well chosen for a biography, if only the content was well chosen too.

With this release we get the story of Elvis' life told through the material of various previously released documentaries. Unfortunately the story is incomplete, little attention for the movie years and the live performances during the seventies. These last two subjects cover half of Elvis' career.
The documentary contains news reel footage, private footage and a lot of stills, but the image quality is not too good. The bonus biography and photo gallery are nothing new (or interesting) too, we've seen that all before.

The booklet is a short biography with some good images of our man from all eras of his life. And finally the CD, this contains various interviews from the fifties, but these too have been released over and over again.

Conclusion

The single items on this release all are interesting by itself, but combined here they are simply a set with repacked material. This package is a release which contains nothing new for the fan who has a few documentaries on either DVD or CD. Don't go "shopping around" for this one.
If you are new, you get a nice start with some interesting footage on DVD and CD which is worth the journey to the shop.