Elvis - The Ultimate Collection Vol. 1
Video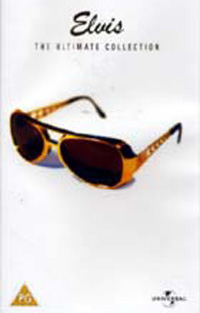 Released: 2002/08
by Universal
ElvisNews review
Klein, who knew Elvis from the early 1950s when they were in the same Humes High School graduating class, has held a Memphis Mafia Reunion for the past nine years. Sunday's get-together at Alfred's on Beale featured Presley band members Scotty Moore and D. J. Fontana plus Memphis Mafia member Jerry Schilling and Richard Davis. Don't hold your breath for the 10th annual, however.

"Nothing against him," says Tan, whose production company, Eastern Heroes, is in the martial arts business. "We have to protect our property. And what right does someone have to use it? If they want to pay a fee that's one thing. But whether it's Elvis, Jimi Hendrix, Kraft Foods, these are all trademarks and they have to be protected. They have a certain value."

Indeed, the Memphis Mafia Inc. held their own second annual reunion at the Ramada Airport Friday and Saturday for Elvis Week 2000. When told that Klein's event was advertised as a Memphis Mafia reunion, Tan's response was blunt: "If he uses it, he will get sued - bottom line."

Klein - a television and radio celebrity known as much for his once-popular WHBQ music program Talent Party as for being an Elvis confidant - is flummoxed by it all.

"I'm an original member of the Memphis Mafia, so I don't know why I can't use it," he says, adding, "It's kind of silly (to say) `an original member of the Memphis Mafia.' It was just an inner circle of friends thing and the media labeled it."

A Las Vegas reporter coined the term in 1960 to describe the flamboyant appearance of Presley and his friends, who had been seen about town wearing black mohair suits and sunglasses. "Memphis Mafia" stuck, and throughout Presley's life, anywhere from a dozen to some 30 people were lumped into the fraternity.

"We didn't make up the rules," says Schilling, now executive director of the Memphis and Shelby County Music Commission, who first met Elvis in 1954 and officially joined the Mafia in the early '60s. "Elvis was the one who chose the group of core people around him. I'd like to see them do this with Elvis alive. . . .

"In all fairness, these guys (Memphis Mafia Inc.) certainly were a big part of it. (But) for that group to isolate everybody else on a legal standing is just absurd to me. I don't know, it might be interesting to get sued on this, Schilling said, laughing.

While the Mafia issue might be compared to Presley's first rockabilly group with Moore and Bill Black vs. the dozens of other players who backed him over the years (and don't dare suggest to fans that the TCB band, for example, wasn't just as important to the King's sound as the Sun trio was), what matters now isn't chronology so much as control. And Lacker - who incorporated the Memphis Mafia name in the early '90s with Smith and Fike - had the foresight to register the name as intellectual property.

Since then, Lacker, Fike and Smith have collaborated on a 1995 book with writer Alanna Nash, Elvis Aaron Presley: Revelations from the Memphis Mafia, and have released a six-volume video series in 1997 with the Wests called All the King's Men. The group even has its own Web site, http://www.blacksheep.com/portfolio/memphis mafia/.

Tan bought into the Memphis Mafia in the mid-'90s. He got involved, he says, after pursuing a documentary on Elvis's karate life, something he still wants to make. And Tan has learned from the best - Elvis Presley Enterprises and its staunch rule of the Elvis name and logo.

"They're our role models," says Tan. "Leading the way to a litigious world."

Tan has big plans for the Memphis Mafia, especially in merchandising. He says T-shirts, key chains and other small items were previously marketed with little success. Now, they plan to beef up the image and the products.

The group might market "anything from CD storage units to car alarms," he says. "We're even discussing a bodyguard course, where some of the guys teach what they learned."

Lacker leaves such talk to Tan. Owning the Memphis Mafia name isn't about money, says Lacker, it's about a sense of belonging.

"Brotherhood," clarifies Lacker, who knew Presley at Humes and became a Memphis Mafioso in the early '60s. "There was a great relationship between Elvis and especially the original guys. . . . People have the misconception that we . . . were there as hangers-on."

In Cain-and-Abel fashion, Klein is feeling the bite of brotherhood. While he asserts he was given permission last year to use the Memphis Mafia name by Tan, Tan insists it was for 1999 only. Klein, nevertheless, plans to keep his Elvis week tradition going, "even if I have to do something to the effect of `George Klein's Memphis Mafia' . . . Elvis is the guy, not the Memphis Mafia, you know?"