Charro!
Video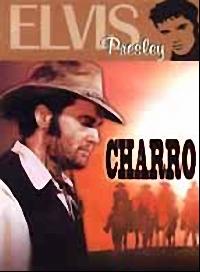 Released: 2001/07
by Westlake
Very poor quality DVD, a shame they sell it, but so far the only way to get this movie on DVD.
ElvisNews review
One of Elvis' movies which isn't available everywhere was released on DVD recently. Finally a chance to see this film in a good quality. At least that's what we thought...

Design

The design is plain and simple and looks like one in a series. With a fifties image at the top and an image of a bearded Elvis against a Western background as the cover. The back contains a shot of Elvis with a girl, of course. There's no booklet with information included in the box. The menu is very simple, you can only choose to play the movie, select a scene and watch some production stills.

Content

The storyline of Elvis' 29th movie is known. In this western saga we find Elvis as Jess Wade, an (ex-)outlaw with a conscience who tries to break free from the clutches of a notorious gang. Vince (Victor French) is the leader who orders Jess' neck to be branded with a hot iron to make him look like the wanted criminal for a crime (stealing a gold-plated and jewel-encrusted Mexican cannon). Elvis becomes a deputy sheriff and captures one of the gang members. The gang terrorizes a small town by threatening to use a gold-plated and jewel-encrusted Mexican cannon on the innocent population. The movie is O.K., showing that given the right material, Elvis Presley could have been an outstanding actor. This was a step in the right direction but too late in his acting career.
Presley sings only one song (the title track) in the last dramatic role of his career.

This movie has the look and feel of the popular spaghetti westerns of the time and the use of instrumental versions of the title track made us think of Ennio Morricone's music we know from these kind of westerns. Not a complete surprise since it was done by Hugo Montenegro, and we never can tell who's who.

The image quality of this release is very poor. They used a "cut-of" movie so you miss part of the image. On the first DVD releases of old movies most production companies make the effort to release a complete or "letter-box" format. The quality of the picture is very poor. It looks a kind of blurry and has some distortions sometimes, like a bad quality VCD release. On Amazon a review wrote that the picture looked to be taped from television because the beginning and the end are cut and before the end theme is over there's a Warner Television distribution logo (while this movie is released by the Westlake Entertainment Group).

There have been rumours this release will be withdrawn because of this terrible quality, and we can only hope they do so. Stick to your video copy for now.
Rating: 2 / 5
Rating: 5 / 5