Early Elvis
Video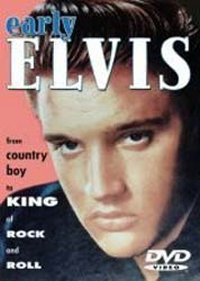 Released: 2002/07
Documentary on the rise of Elvis.
ElvisNews review
Design

The design is very poor with a bad quality image of Elvis. We must say the producers picked the right picture for this release, the look on Elvis' face is the same we had after watching this documentary (for a few minutes).;


The menu of the disc is basic, but complete and with only a few options, you can't go wrong.


Content


This is the story of Elvis' early years telling the usual story of his rise from a country boy to the world's greatest entertainer. This 1989 documentary starts with Elvis' death and then the first few years of his career.


The DVD contains mostly photos and a little footage. This most interesting part we found was that of Elvis and Milton Berle doing a short sketch with Deborah Paget. Too bad the quality was very poor. Up next are the usual movie trailers as illustration of Elvis life in the sixties.


Conclusion


This DVD contains an interesting two minute sketch and that's all the positive we can say about it. The look of Elvis on the cover says it all .... You're better off buying 'Elvis 56'.