Change Of Habit
Video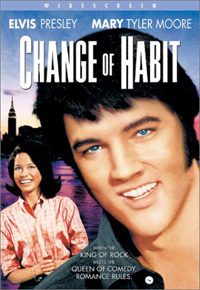 Released: 2002/07
by Universal
One of Elvis' better movies.
ElvisNews review
Universal decided to pick a grain with all the attention for the 25th anniversary and released one of Elvis' latter movies on DVD.

Design

To our taste the cover art is awful; the drawing even does not really look like Elvis. The DVD has a good menu, but except for the original trailer not many extras. The picture quality is very good, belonging to the better Elvis-releases so far. Unfortunately the sound seems to be a little bit out of sync sometimes, not much but enough to notice.

Content

In the clinic where Dr. John Carpenter (Elvis) works, three young nuns have to get experienced in the 'real' world, without their habit. Dr. Carpenter falls in love with Sister Michelle (Mary Tyler Moore) and wonders why she's taking distance. And of course the nuns get in problems outside their convent. At last they get the order to return. When Dr. Carpenter sings 'Let Us Pray' in a church, he sees Sister Michelle in her habit. The question if she chooses for Dr. Carpenter or her habit is not answered. Except for the title track and the before mentioned 'Let Us Pray' the movie includes 'Rubberneckin'' and 'Have A Happy'.

Elvis socially involved in a good role in a serious movie –but unfortunately the spectators were already driven away by some of his earlier movies.

Conclusion

One of the better Elvis-movies regarding story-line and acting, in sharp quality. So buy it!