Elvis Chante Mort Shuman & Doc Pomus
CD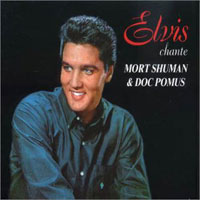 Released: 2000
by BMG
Perfectly presented 2CD set with Mort Shuman and Doc Pomus work.
ElvisNews review
First of all it's a fantastic item from France, it took a long time to get this item, but it's worth it. This is a limited edition (2000 copies) release, made only for a French Fan Club and distributed only in France.

Disc one contains the original versions from the songwriters "Mort Shuman & Doc Pomus", in total 16 tracks. Disc 2 contains 12 alternate takes, one live version from "Little Sister" a interview (in French) with Mort Shuman. The other bonus tracks are: "His Latest Flame", "Suspicion" & "Viva Las Vegas" sung by Mort Shuman himself, and let me say he's got a good voice.

And now the artwork, absolute fantastic, I got no words for it if there was a scale from 1 till 10 I'll give it a 11. It came in a digi-pack (four foldout - eight panels) and contains three beautiful pictures from Elvis. The booklet contains 24 glossy high quality paper pages. The booklet contains track by track information about the songs (written in French and English). This is a item you must have in your collection! don't miss it.
Tracklisting
Yes, you probably have most of this material and die-hards will have it all except the Mort Shuman demos , but the thoughtful *concept* is the real kicker. This is a great theme album that really works, with beautiful packaging and choice of photos (right down to the caliber of cardboard used in thickness and appearance in the digipak) and a rarity factor to boot. A congratulations to our French friends for a job well done. Track this down - if you can.
Rating: 5 / 5