From Elvis In Memphis 33 1/3
Book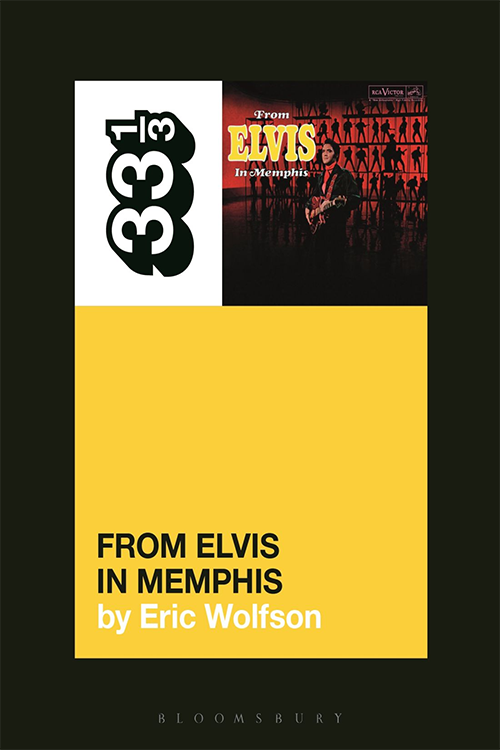 Released: 2020/11/12
by Bloomsbury Academic
Book in 33 1/3 on Elvis' album From Elvis In Memphis by Eric Wolfson.
ElvisNews review
Gravel Road Music goes for the most tongue breaking title with their re-release of two soundboards recorded in Hampton (Roads): one from August 1, 1976 and the other from April 9, 1972.
Design
As usual with GRM-releases the design is topnotch. Especially regarding the poor material they had to work with (Elvis in bad shape), they managed to compile a nice booklet for the tasty 3 fold case.
The liner notes are a fun read, with some philosophic words on the remastering of soundboards, which I freely translate as "it's all a matter of taste".
Content
Of course both shows were released several times before. The 1976 one has the classic predecessor The Bicentennial Elvis Experience by Fort Baxter. Compared to this one the sound definitely improved. The range is much wider and all instruments are more audible. To my taste the highs are a little too much, but others might like that. For a 1976 show this one isn't too bad and the inclusion of Return to Sender makes it a kind of special.
Vicky had the honour to open the series of releases of the 1972 Hampton Roads show,but was topped a decade ago by Triangle, which had much better sound, probably one of the best sounding bootlegs ever. GRM is close, with a little more reverb (or whatever it is called that gives it this sound), but I do prefer the Triangle release when closely compared. This one has the advantage that it is much easier to dismantle due to the package, so I might go for this one when playing it in the future.
Conclusion
A good release, especially for those who missed the earlier outings. If you have those, but love 1976 it might be a good upgrade.
Tracklisting
August 1, 1976 (2:30 pm). Hampton VA. Hampton Coliseum
2001 Theme / C. C. Rider / I Got A Woman - Amen / Love Me / If You Love Me / You Gave Me A Mountain / All Shook Up / Teddy Bear - Don't Be Cruel / And I Love You So / Jailhouse Rock / Fever / America The Beautiful / Return To Sender / Band Introductions / Early Morning Rain ( featuring John Wilkinson ) / What'd I Say ( featuring James Burton ) / Johnny B Goode ( featuring James Burton ) / Drum Solo ( featuring Ronnie Tutt ) / Battle Of New Orleans ( featuring Jerry Scheff ) / Piano Solo ( featuring Tony Brown ) / Electric Piano Solo ( featuring David Briggs ) / Love Letters / School Day / Hurt (+ reprise) / Hound Dog - Good Golly Miss Molly (excerpt) / Funny How Time Slips Away / Cant Help Falling In Love / Closing Vamp.
April 9, 1972 (8:30 pm). Hampton VA. Hampton Coliseum
Also Sprach Zarathustra /. C. C. Rider /. Until It's Time For You To Go /. Polk Salad Annie /. Love Me /. All Shook Up / Teddy Bear (with 2 false starts)/Don't Be Cruel / Are You Lonesome Tonight? /. I Can't Stop Loving You / Hound Dog / Bridge Over Troubled Water / Suspicious Minds / For The Good Times / Band Introductions / An American Trilogy / Love Me Tender / A Big Hunk Of Love / How Great Thou Art / Sweet Sweet Spirit (The Stamps) / Lawdy Miss Clawdy / Cant Help Falling In Love / Closing Vamp/Announcements