Aloha Via Satellite
Book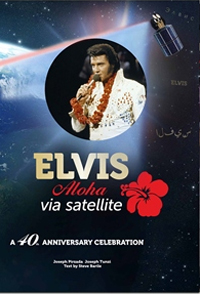 Released: 2013/06/10
by Boxcar/JAT
A prestigious project on the Aloha special.
ElvisNews review
Boxcar and JAT joined forces on a prestigious project on the 40th anniversary of the Aloha special.
Design
The book is covered – like Boxcar's Graceland book – in a box, which gives the earth/satellite impression like the original album did. The package weights about 3 kg and has 440 pages.
After a while I could only mumble a wholehearted WOW! It is not often that I've seen such a tasteful, well-balanced design on books. The lay-out is perfect, the font choice and amount of text on pages ditto. The decorations are nice and not over the top: flowers and like on the original album the phrase "We Love Elvis" in many different languages (hope you forgive me I didn't count them).
Content
With photo books it is often a bit hard to make a split between design and content, but I'll have a go on it. The book is divided in chapters, both 1972 press-conferences regarding the special get attention, the rehearsal, the show itself and the album are the main ones.
The text by Steve Barile is what it should be with a project like this… supportive, but informative. In other words not too long with useless blah blah, but straight to the point.
The quality of the pictures is from "mwah… " to absolutely stunning. Even the lesser ones are not disturbing, since they make the picture complete and are there for that more than valid reason. The stunning ones make you stare with open mouth for a while every now and then. For that reason I advise to keep the book far enough from the facial opening in order not to damage it with fluids.
Next to the zillion pictures - I estimate about evenly divided between black and white and full color – there are memorabilia present like songlists (some amazing songs there, if only…), letters, schedules and album covers.
Conclusion
Joseph, Joseph and Steve did an impressive job! This is by far the best Boxcar and/or JAT release to date. It is not only tastefully done, but also carefully… it shouts QUALITY right into your face.