Blu-ray Collection
Video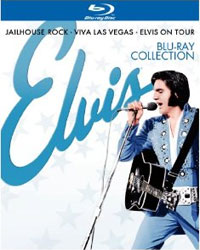 Released: 2010/08/03
by Waner Home Video
3 movies on one Blu-ray disc: Jailhouse Rock, Viva Las Vegas and On Tour.
O.K so it's released on 3rd August & that's all the info were given about this release. On Amazon this is advertised as a "U.S. Import". Does this mean it's coded Region A (U.S.) or is it Region free, does anybody know? If it's coded Region A then it won't play on British Blu-Ray players & if you order it from Amazon & find out it is Region A Amazon won't give you you money back because they say you should know that your player won't play Region A. If it's Region free then you'll be all right. Hence the 1 star as M.G.M. & Amazon give no info about these products as usual.
Rating: 1 / 5
Im rating the movies, not MGM or Amazon, (no offense burton), and On Tour is FANTASTIC!! Jailhouse Rock and Viva are pretty great too! Gonna play all 3 in Blu Ray at my bar! Cant wait to play it on all my flat screens and crank up the surround sound!!! They're gonna rock!!!
Rating: 5 / 5