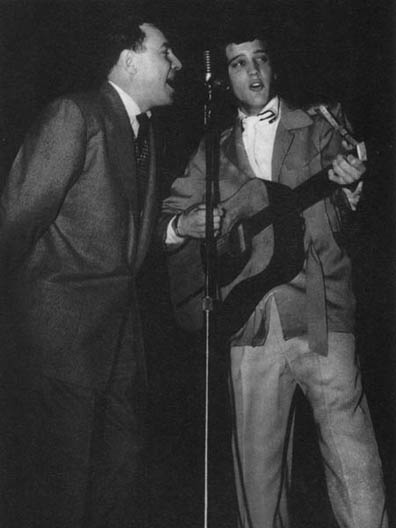 Taken on:

1955/02/06

Source:

Elvis Day By Day by Peter Guralnick and Ernst Jorgensen

Photo:

On stage with Dewey Phillips

Location:

Ellis Auditorium, Memphis

Info:

For all of his local eminence, Elvis is listed down on the bill, below such established stars as hayride graduate Faron Young, Ferlin Huskey, and Martha Carson, whose signature tune, "Satisfied", is one of Elvis' favorites. Between shows Bob Neal arranges a meeting between Sun Records president Sam Phillips and Colonel Tom Parker and Tom Diskin at Palumbo's Restaurant across the street from the auditorium. The purpose of the meeting is to discuss the future of the young performer in whom they are all so interested. The meeting does not go well, as Parker explains to Phillips that Elvis is going nowhere on a small-time label like Sun and that he has already made overtures to RCA to buy the contract. Phillips doesn't react well to his piece of information, and Parker silently revises his plan without ever retreating.

Login to give your opinion