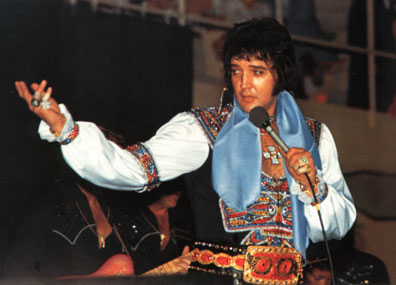 Taken on:

1975/07/23

Source:

Elvis The Concert Years (Stein Erik Skar)

Photo:

Sean Shaver

Location:

Asheville Civic Centre, Asheville, North Carolina

Attendance

7.437

Info:

The three last shows of the tour were held in Asheville. These became three very memorable shows, mostly because of a somewhat reserved audience... Elvis never got a standing ovation, which during one of the shows made him exclaim: "I don't know who's asked you to stay in your seats - it's not me!!" But Elvis therefore did his best to ignite the audience: in the first show he did an improvised performance of "Shake A Hand", showed a great karate demonstration after "T-R-O-U-B-L-E" and had a great repertoire of songs. During the same show he gave J.D. Sumner a 10-carat diamond ring worth $40.000.

Before the last show in Asheville Elvis had had a box put up in the lobby in the Civic Centre in which the audience could put song requests, which resulted in a completely unusual repertoire with "unknowns" like "Return To Sender" and "Wooden Heart". Also during this show Elvis gave away rings - two copies of his own $16.000 diamond ring were given to two members of the audience.

After the tour Elvis felt guilty about his behavior against the Sweet Inspirations and Kathy Westmoreland. Elvis did as he so often did in situations he didn't feel comfortable in: he bought jewels a fortune's worth. He also bought 14 Cadillac's for all of the members of the band. Elvis in addition bought himself two aeroplanes...
Login to give your opinion