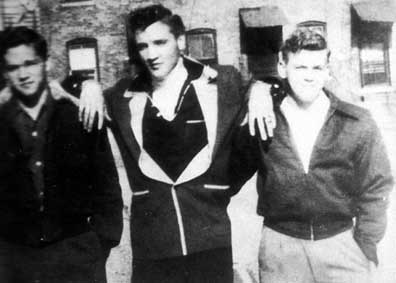 Taken on:

1953

Source:

Elvis A. Presley (by Marc Hendrickx)

Photo:

Hanging out with friends, Elvis has already adopted a pompadour and jive style of dress. (Unseen Elvis - by Jim Curtin)

Location:

Memphis

Info:

Just to encourage Elvis' study, Gladys submits her son with a local library in 1948. The boy loves to read. But it won't take long before Vernon is fired. Several people in Tupelo know why: Elvis' father has been involved with the illegal selling of cattle. With the knowledge that this is not usual to get a new job, the family decide to move to Memphis. This time they are leaving Tupelo for good. Elvis' classmate Leroy Brown remembers that Elvis can sing a few songs as departure by request. His last song will be 'A Leaf On A Tree.

Elvis is registered in Humes Jr. High. With his striking clothes and looks Elvis is a target several times. A fight brings solution many times. Delbert 'Red' West, a strong guy from a higher grade, helps Presley. It's the beginning of a friendship for years.

On a Saturday in June/July 1953, Elvis goes to Memphis Recording Service to record a song called 'My Hapiness'. Elvis tells that he wants to make a record as a surprise for his mother's birthday. That is not true! Gladys' birthday is in April. This was summer, after the graduation.
Login to give your opinion