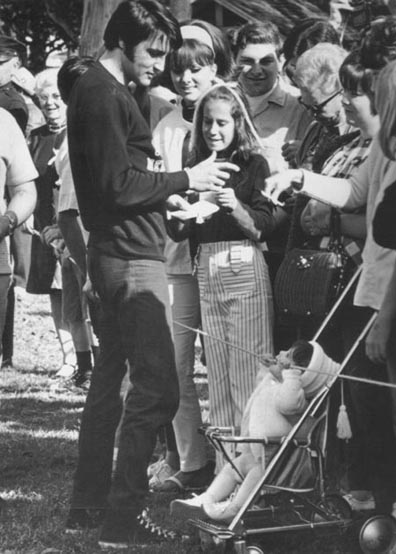 Taken on:

1969

Source:

The Elvis Encyclopedia (David E. Stanley and Frank Coffey)

Photo:

Elvis (by William Allen)

Location:

Set of "Change of Habit"

Info:

Producer: Joe Connelly Director: William Graham Screenplay: James Lee, S.S. Schweitzer, Eric Bercovici Makeup: Bud Westmore Running Time: 93 minutes Opened: November 10, 1969 Stats: #17 Variety's list of top-grossing films

Cast:

Dr. John Carpenter Elvis Presley Sister Michelle Mary Tyler Moore Sister Irene Barbara McNair Sister Barbara Jane Elliot Mother Joseph Leora Dana Lieutenant Moretti Edward Asner The Banker Robert Emhardt Father Gibbons Regis Toomey Bishop Finley Richard Carlson Young Man A. Martinez Songs: "Change of Habit", "Rubberneckin'", "Have a happy", "Let Us Pray"

Synopsis:

Dr. John Carpenter (Elvis), a physician working in an urban ghetto, comes into contact with three nuns, Sister Michelle, Sister Irene and Sister Barbara, who have moved into the neighborhood to gain experience in the real world before taking their final vows. They move into the roughest part of town and keep their true identities secret. They do, however, report to the old-fashioned priest, Father Gibbons, who is upset by their unconventional dress, informal manners and uninhibited fun. Dr. Carpenter finds himself attracted to Sister Michelle and, unaware of her commitment to the church, is confused by her seeming lack of interest in him. Through the course of the story, we follow the three sisters as they learn to cope with the outside world. After a time, they are ordered by the Mother Superior to return to the convent. Sisters Michelle and Irene choose to return, but Sister Barbara doesn't. Dr. Carpenter confronts Michelle and asks her why she won't return his love. She tells him the truth, and the Doctor is left to deal with his pain.
Login to give your opinion