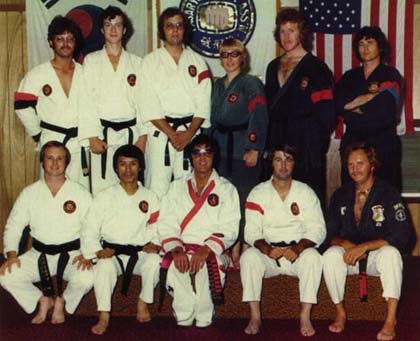 Taken on:

1974

Source:

Elvis Monthly, no. 389

Photo:

Elvis in his Karate class. Bottom right seated, is Dave Hebler. (photo taken from Elvis...Intimate & Rare, by Joe Esposito) Note the bruised wound on Elvis' right hand.

Location:

Memphis

Info:

Elvis was involved in the art of Karate for a period, which spanned 18 years, using Karate movements on stage, incorporating it into some of his songs such as "If You Talk In Your Sleep" and "Suspicious Minds." Elvis wanted to show his audiences how his music and Karate mixed so well together, he had a deep ingrown fascination with the sport, which to him was more than a whimsical interest. It was to take him and make him an 8th Degree Black Belt, of which Elvis was very proud and he loved to talk about his achievements with his audiences and discuss his feelings on the use and art of Karate and, as Elvis himself said, after music it was his second greatest love in life.

In 1974, Elvis became involved in a film project, which sadly was never finished up until the time of Elvis' death. The project was entitled "The New Gladiators" and was to be a documentary film devoted to the Martial Arts. The details as to the content of the film were put together and ironed out in meetings which took place at the Las Vegas, Hilton, during the early part of 1974. However, things dragged on and by 1975, Elvis had gained a lot of weight, at one point said to be bordering on 200 pounds, which was considered far too much for a starring role. Prior to this though, George Waite (who made this film) had managed to capture Elvis in motion, before the cameras in Memphis, as Elvis was about to turn 40, on the 8th January, 1975, and this event was to be commemorated with a front cover story in the general interest magazine, "People," which had approximately a two million readership, but even without Elvis' interest in the movie, his 40th birthday would create much interest in the media, so it was a perfect opportunity to publicize both events. According to reports, Elvis only twice allowed photographers to take pictures of him during his private Karate workouts and the above occasion was one of them. Elvis was shown film that had been taken in Europe, of tournaments to be used in the film and was apparently excited by what he saw. Following this, Elvis called George Waite and asked him to send a film crew down to where he was working out, which he did, and two cameramen filmed two, twenty minutes, reels of Elvis performing Karate. All the various pieces of film, to be used, were then made into a final cut version for the approval of Elvis and he was apparently quite satisfied with what he saw, although there was no apparent deadline for the films release. Unfortunately, before the project could get any further off the ground, Elvis died and everything was shelved....
Login to give your opinion