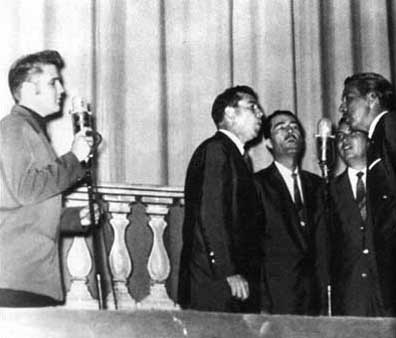 Taken on:

1955

Source:

Elvis Presley - Amazing Grace

Photo:

Elvis Presley - Amazing Grace (2CD-boxset)

Location:

Ellis Auditorium, Memphis

Info:

In August of 1950, the Blackwood Brothers, perhaps the most popular radio quartet in the nation, moved their operations from Shenandoah, Iowa to an office on Jefferson Avenue in Memphis. Native Mississippians, they were ready to come home.

They began twice daily programs on WMPS, continued to develop their own record label, and started a series of concerts at Ellis Auditorium.

In June 1954 the Blackwoods got to take their music to national TV audience when they appeared on the hit CBS show "Arthur Godfrey's Talent Scouts." Memphis Mayor Frank Tobey issued a proclamation designating the date as BLACKWOOD BROTHERS QUARTET DAY for the "great credit" the group brought to the city. Ironically, two weeks later two members of the quartet were killed in a plane crash. Their funeral was attended by 5.000 fans. A newspaper announced that "the galleries were reserved for Negroes."

Three days after the funeral 19-year-old Elvis went into the Sun studios to make his first recordings. It is quite likely that he was one of those mourners who filed past the caskets of R.W. Blackwood and Bill Lyles, as he had been a fan of their music since he was fourteen.

It was shortly after the Blackwood plane crash that Elvis actually had a chance to join a gospel quartet - not the Blackwood Brothers, as has been widely reported, but one that was an off-shoot of the Blackwoods. It was called the Songfellows and was formed by Jim Hamill and Cecil Blackwood, a nephew of James Blackwood. Elvis knew both and asked for an audition. After some awkwardness, the group turned him down. Elvis couldn't hear harmony. As long as he was singing lead, he was fine, but when the baritone or the tenor took the lead, someone had to sing harmony, and he couldn't harmonize. Elvis listened, continued to improve, and a few months later the Songfellows gave him a second shot when Cecil moved up to the regular Blackwood Brothers. But Elvis already signed a contract with Sun records. The Songfellows wanted the contract to be broken, but Elvis wouldn't. Or couldn't.

Later Elvis would sing an occasional solo with the Blackwoods backing him up.
Login to give your opinion