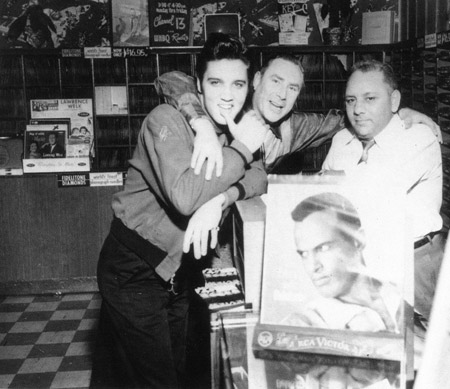 Taken on:

1956

Source:

Various

Photo:

Internet

Location:

Poplar Tunes, Memphis

Attendance

at least 3

Info:

For everyone who has ever visited Memphis, knows that when you are in Elvis town. You must visit all the Elvis hot-spots. One of the oldest ones in town, 'Poplar Tunes,' sure was one of them. We now have to say "was", because sadly the record store is no longer open. Elvis used to buy his records at this store when he was a young boy and never forgot to pay them a visit now and again. This picture we are sharing with you all is one of Elvis at that record store. Standing next to him is Dewey Phillips, and what we think must be the owner at the time. This same picture (a cut-out version of the men) stood 'big-sized' in the shop and was a favorite to have your picture taken with!
Login to give your opinion
Great picture! Thank you for sharing. Take care and may God bless you.