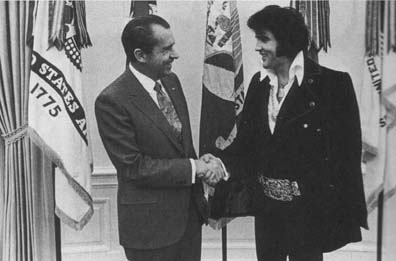 Taken on:

1970/12/21

Source:

Elvis Day By Day

Photo:

Elvis Day By Day (by Peter Guralnick and Ernst Jorgensen)

Location:

The White House, Washington D.C.

Info:

Picked up at the airport by the same Liberty Limousine Service driver who had piloted him around the capital the first time, Elvis drops off his letter to the president at approximately 6:30 a.m. After registering once again at the hotel Washington, Elvis proceeds to BNDD headquarters to try to meet with Bureau director John Ingersoll, whom Senator Murphy has promised to contact for him. If President Nixon telephones while he is out, he says, Jerry should simply call him at the Bureau. He is unsuccessful in his attempts to meet with Ingersoll or to persuade Deputy Director John Finlator to give him a badge - but President Nixon's deputy counsel, Egil Krogh, does call while he is out to inquire if Elvis can meet with him in about forty-five minutes at the Old Executive Office Building on the White House grounds.

Elvis returns immediately to the hotel, where he picks up Jerry and Sonny (who has just arrived) and meet with Krogh and then President Nixon. To everyone's surprise perhaps but Elvis', he persuades the President of his sincerity, patriotism, and goodwill - in fact, in a strange way they really hit it off. After an exchange of gifts, the President is convinced to have Ingersoll give him a badge, and Elvis leaves Washington the following day with what he came for - though he never does get to meet FBI director J. Edgar Hoover, to whom Senator Murphy has also promised to drop a note of introduction. He does, however, get to see Joyce Bova, whom he will visit again nine days later.
Login to give your opinion