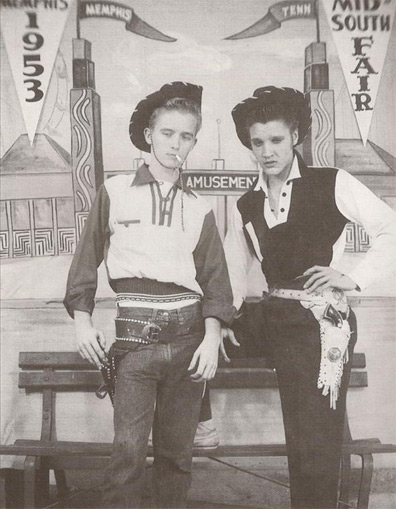 Taken on:

1953

Source:

Wikipedia

Photo:

Elvis, The Lost Photographs 1948-1969

Location:

Memphis

Attendance

at least 2

Suit

cowboy

Info:

Natural charisma! How else can you describe the look Elvis has on this photo? It was taken at the Mid-South Fair in Memphis in late 1953. Elvis already paid Sam Phillips a visit during the summer months to record 'My Happiness' and 'That's When Your Heartaches Begin.' He would return in January 1954 to Sam Phillip' Memphis Recording Service to cut the two-sided acetate, 'I'll Never Stand in Your Way'/'It Wouldn't Be the Same Without You.' And the rest, the rest is history!

The Mid-South Fair is a fair that was held for many years in Memphis, Tennessee, every year around late September to early October. It is now held in neighboring northwest Mississippi. It hosts many shows and attractions. The event was last held in Memphis from September 19-28, 2008, in its 152nd year.
Login to give your opinion