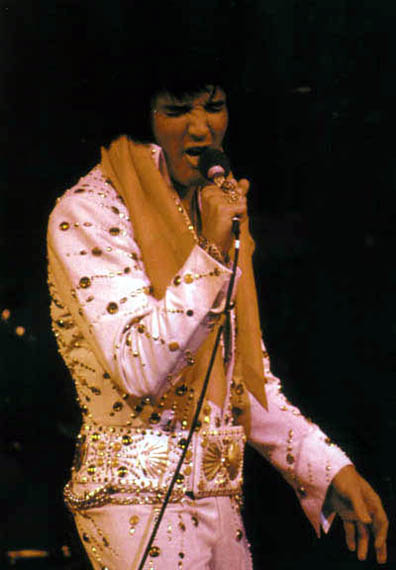 Taken on:

1973/01/23

Source:

The Concert Years (Stein Erik Skar), Elvis Shot By Ed Bonja

Photo:

Elvis Shot by Ed Bonja

Location:

Hilton Hotel, Las Vegas, Nevada

Suit

Sunlight Suit. Elvis joki

Info:

Less than two weeks after the shows on Hawaii Elvis was back at the Las Vegas Hilton. This Vegas season showed that Elvis really had problems with his voice. Mental stress was a probable cause: just before the Hawaii shows Elvis had signed the divorce papers and Mike Stone had suggested to Priscilla that Elvis should not see his daughter for a while. This led to something close to a nervous breakdown, and probably also to a growing use of sedatives. And as always in Las Vegas the warm dry desert air was a constant strain on Elvis' voice. Several shows were cancelled, and the dinner show on February 15th had a rather special course. After having sung 7 songs Elvis excuses himself and leaves the stage, asking the Stamps to take over the entertainment. Five songs later Elvis returns and sings "Can't Help Falling In Love". As the curtains falls Elvis shouts: "Get the curtain up again, I haven't finished yet." Then Elvis sings another four songs (including "Faded Love") before he concludes the show with yet another performance of "Can't Help Falling In Love".

During the midnight show on 18th February things of a more dramatic character happened. About 17 people on the front row are yelling to Elvis to sing "Bridge Over Troubled Water" and others all the show. As Elvis starts "Fever", he says: "I pick my own songs". He may was a little annoyed with them then. Things continue to the close of "Suspicious Minds", Elvis goes into the karate fight real good, and the leader of the group gets on stage, approaching Elvis slowly with both hands up in a sort of karate challenge to Elvis, but well before he gets close, Red West has dashed from the wings and in the rush takes the guy off stage and back stage. Now things start happening really fast. Three guys get up once, and Elvis is really mad now, he drops the mike and says things to them. The guy who was the leader somehow managed to get free and is in the general mess on the front part of the stage. Elvis pushes one of the guys off stage in a karate movement and he falls onto a table. Elvis is so angry now that he is held back by 4 of his employees, and reminded that he has a show to complete..
Login to give your opinion