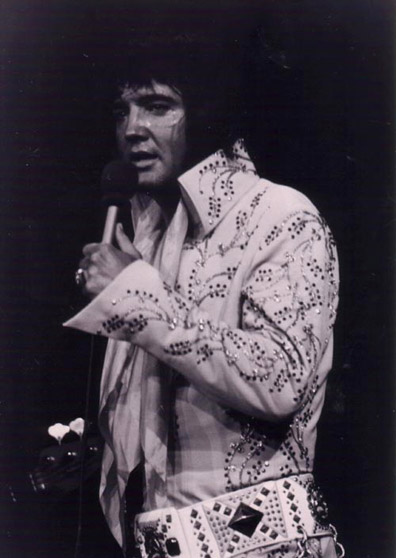 Taken on:

1972/06/10

Source:

Limited Collector's Edition of Elvis World, by Phil Gelormine

Photo:

At the Garden on June 10, 1972, afternoon show (by Phil Gelormine)

Location:

Madison Square Garden, NY

Attendance

20,000

Suit

Blue Leaf Suit

Info:

The tension inside the building was unbearable. New York could be a tough audience but tonight it was prepared for a resurrection. Tonight they were going to rock and roll with the best of them all. The King! The drone of the 20.000 grew louder as showtime approached. One scream for Elvis lead to another, and that to another. With a collective gasp, the lights were dimmed and The Sweet Inspirations opened the show with a perfunctory but pleasant set of sweet, soul music. But the fans wanted their King, so it was with groans that comedian Jackie Kahane was next introduced by Big Al Dvorin, the announcer. As a rule, Elvis audiences were polite and tolerated this minor nuisance knowing what was to come...but not New York, not on opening night. Not now!
"Get off!" the Garden screamed. The tension was unbearable. Kahane meekly countered and quickly left the stage.
The King was due to take the stage in minutes. This was it. Any second. Oh God, lower those lights. Suddenly a deafening roar went up and the Garden grew dim as the deep, dark opening strains of Also Sprach Zarathustra oozed from the big belly of the arena. Immediate panic set in. Somebody had yelled fire! No, some people caught a glimpse of Elvis mounting the stage and started shrieking. As the spotlight hit him, a fantasy figure in stunning white and gold, the 20.000 collectively rose as one and greeted their King.
If Elvis didn't feel like a million bucks at that moment, he sure looked like it. He strapped on his guitar, grabbed the mike and tore into a no-nonsense version of his first hit record, "That's All Right, Mama."
Login to give your opinion