A Greensboro Revolution!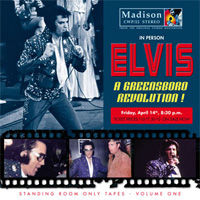 Content
01. Introduction: Also Sprach Zarathustra 1:04 ; 02. C.C. Rider 3:09 ; 03. Proud Mary 2:43 ; 04. Never Been To Spain 3:36 ; 05. You Gave Me A Mountain 3:13 ; 06. Until It's Time For You To Go 2:36 ; 07. Polk Salad Annie 3:14 ; 08. Love Me 1:35 ; 09. All Shook Up 1:00 ; 10. Teddy Bear / Don't Be Cruel 2:26 ; 11. Hound Dog 1:30 ; 12. Heartbreak Hotel 1:49 ; 13. A Big Hunk O' Love 2:00 ; 14. Bridge Over Troubled Water 4:13 ; 15. Suspicious Minds 4:48 ; 16. Love Me Tender 1:34 ; 17. Introduction of Vocalists, Musicians, Orchestra 1:21 ; 18. For The Good Times 3:08 ; 19. An American Trilogy 4:42 ; 20. Burning Love 2:44 ; 21. Release Me 3:03 ; 22. Funny How Time Slips Away 2:49 ; 23. Can't Help Falling In Love / Closing Vamp 2:15

Bonus Tracks: 24. Backstage, Saturday, April 15, 1972, Macon, GA 0:59 ; 25. Bridge Over Troubled Water (unrepaired) 3:43

Total Time = 65:39
Reviews
A Greensboro Revolution!

Madison just released this CD with the subtitle Standing Room Only Tapes – Volume One. Well I listened to it on my behind, since there were seats available, but I guess that doesn't really matter.

Design

Madison = design period. Just like other good things there are impersonations and different from Elvis imposters some are so close that you actually think "Hey that could be Madison". Nonetheless with Madison you are sure to have quality.
This time they used a part of the movie poster of On Tour in their logo, a subtle reference to the origin of the material.
As always – in the case of Madison - the liner notes are well written. The booklet is decorated with mainly pictures of the actual show, but also some backstage and other candid shots. A couple of pictures are from other shows of this April tour. Next to the photos of The King there are nice memorabilia presented, like the poster of the Greensboro concert. I have to bow deep again for the designer of Madison!

Content

We had two outings of this show before. The original Vicky release – with which I was very glad at the time – will stay in my cabinet for historian reason from now on. The other I don't have officially – since it's a CDR. Still I can say that I think the difference is very small, but I just like the balance in this one slightly better. It is more like a whole than the Triangle release, where you heard some of the instruments a bit too separately from the others. All together you can be sure you'll get a show like a show is supposed to sound.
This April 14, 1972 Elvis was in top form, the Greensboro Coliseum must have been the greatest place on earth to be in that very day. Of course the show is well known by now, both from CD as (partly) from film. Everyone will have his or hers own favorites. Mine are without any doubt Never Been To Spain, Hound Dog (slow blues start), A Big Hunk, Bridge Over Troubled Water and For The Good Times. Also Proud Mary, Polk Salad Annie (although I like the slower version better, but it doesn't get as erratic as some of the versions of later years), Trilogy, Burning Love, Release Me and Funny How Time Slips Away are very enjoyable.
Even the other oldies are fun to listen too, of course they get the rush treatment already, but they do not sound as neglected as they sound in later years.
The backstage talk a fun bonus, but I don't get the value added of the unrepaired version of Bridge.

Conclusion

Certainly if you don't have the Triangle CDR this outing is must. A great show brought in an even greater package by the top notch label Madison. Thankyouverymuch!