A Legendary Performer, Volume 4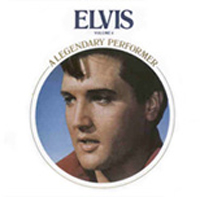 Content
When It Rains, It Really Pours (Alternate takes c, f, e)
Tampa Interview (August 5, 1956)
One Night (Of Sin)
Don't (Master take 7, with extra studio chat)
I'm Beginning To Forget You (Home recording 1959)
Mona Lisa (Home recording 1959)
Wooden Heart (Alternate takes 3, 4)
Thanks To The Rolling Sea (Group Version)
Plantation Rock (Original Master)
The Lady Loves Me (Duet with Ann Margaret, recorded for "Viva Las Vegas")
Kissin' Cousins (Previously unreleased version)
I'm A Roustabout (previously unreleased from first generation master tape)
Swing Down, Sweet Chariot (October 1968, recorded for "The Trouble With Girls")
That's All Right (Recorded live on June 27, 1968, 8PM)
My Little Friend (previously unreleased undubbed version)
Are You Lonesome Tonight? (Recorded live in Las Vegas, August 26, 1969 Midnight Show)
Reconsider Baby (recorded live at Madison Square Garden, June 10, 1972 Afternoon Show)
I'll Remember You (recorded live at Madison Square Garden, June 10, 1972 Afternoon Show)
Girl Of Mine (Previously unreleased undubbed version)
A live Experience: See See Rider, I Got A Woman – Amen (Recorded live on tour, November 28, 1976)
Million Dollar Quartet Radio Spot (Previously unreleased).
Reviews
ElvisNews.com:

Released by the "Flash" import label, trying to make a few bucks following the great "Legendary Performer" releases volumes 6 and 7 from the Madison label, are volumes 3 and 4 in the Legendary Performer" series. Does it meet the standard set by the Madison label?

Design

Just like on volume 3 the cover is the same as the original RCA / BMG release, and so is the main part of the design, including the disc label. Contrary to the RCA (vinyl) and Madison (bootleg) releases this volume does not contain a booklet. It would have been nice to have a complete well designed series of out-takes with the same look, feel and audio quality. The producers did have a copy of the Madison release, and had it standing next to their PC designing the cover; unfortunately they only copied the "outside" look.

Content


This compilation opens with three takes of the great "When It Rains It Really Pours", including studio chatter instructing Elvis on both technique ("not to close to the mic") and performance ("don't make it too damn complicated"). The takes are "numbered" with letter, not figures. The interview from Tampa is nice, especially because it is a nervous girl and Elvis a staring artist calming her down "I'm not gonna bite". But it is too early on the compilation for talking fragments.

In the line of "When it Rains" we get "One Night Of Sin" with that dirty feel oozing from the speakers. After the readers reactions on my last comment on "Don't" I no longer dare to write about the song, but did skip it :-) For those who "Don't" you get an extra count into take 7.

Up next is the home recording (1959) "I'm Beginning To Forget You". Elvis is the privacy of his home singing to himself. From the same tape is "Mona Lisa", too bad he never recorded it is the studio, Elvis could have recorded a great version with all the tenderness he has in his voice.

Takes 3 and 4 of the old German folk song "Muss I Denn / Wooden Heart" are nice, but not our favourite. On "Thanks To The Rolling Sea" Elvis is really up front, showing he could carry a song, but this song isn't worth a voice like this. "Plantation Rock" is slightly better, but not as good as "The lady Loves Me", a duet with Ann-Margaret. The chemistry is there, even on a simple song like this. We must say, she sings it better than he does.

The producers of this release fall through with the content of this CD using the faked out-take from Keith Flynn's audio site. With the sound of "I'm a Roustabout" has been messed, but it sounds much louder. "Swing Down Sweet Chariot", listed on the cover, actually is "Signs Of The Zodiac", we rather would have seen that the other way around.

Recordings from the 1968 Comeback are always great, so "That's All Right" is a welcome selection; it has that real raw feel that SUN recording originally had. The undubbed "My Little Friend" really needs some dubbing; the song simply isn't finished now. The laughing version of "Lonesome" is fun to hear, but not a choice on a release like this. Fortunately the selection improves with "Reconsider Baby" and "I'll Remember You" from Elvis legendary NY 1972 concerts.

Up next are undubbed versions of "Girl Of Mine" and "It's Midnight" really sound like country songs, contrary to the before mentioned "My Little Friend" these two songs can hold there own without the dubbing.

The fore last track is "A Live Experience", is Elvis November 28, 1976 show opening, and we still do not enjoy JD trying to blow our speakers. Nice for the collectors is the radio spot for the "Million Dollar Quartet" that closes the CD.

Conclusion

Also just like volume 3, a nice selection of songs, a few more oldies. But the takes are not too different from the versions we know and the good audio quality make this a nice compilation to listen to. Although the two big erros show it was made for the mighty "$" and not the fans.