A Legendary Performer, Volume 3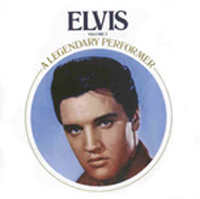 Content
Hound Dog (Original master, take 31)
Danny (Recorded for "King Creole")
Fame And Fortune (Alternate take 2)
Frankfurt Special (recorded for "G.I. Blues", alternate take HO-2)
Britches (Recorded for "Flaming Star")
Crying In The Chapel (Original master, take 3)
Surrender (Alternate take 2)
Can't Help Falling In Love (Alternate takes 1-5 / previously unreleased stereo recording)
Guadalajara) (Alternate take PVX-2)
It Hurts Me (6/68 previously unreleased on CD)
Let Yourself Go (6/68 previously unreleased on CD)
Inherit The Wind (previously unreleased alternate take)
Gentle On My Mind (previously unreleased version)
In The Ghetto (vocal only)
Let It Be Me (Recorded live in Las Vegas, February 15, 1970 Midnight Show)
Memories (Funny version, rehearsal July 24, 1970)
Meet And Greet in Elvis' Suite (January 30, 1974)
For The Heart (Previously unreleased undubbed version)
Complete Interview with Elvis and the Colonel for TV Guide.
Reviews
ElvisNews.com:

Released by the "Flash" import label, trying to make a few bucks following the great "Legendary Performer" releases volumes 6 and 7 from the Madison label, are volumes 3 and 4 in this series. Does it meet the standard set by the Madison label?

Design

The cover is the same as the original RCA / BMG release, and so is the main part of the design, including the disc label. Contrary to the RCA (vinyl) and Madison (bootleg) releases this volume does not contain a booklet. It would have been nice to have a complete well designed series of out-takes with the same look, feel and audio quality. The producers did probably have a copy of the Madison release standing next to their PC while designing the cover. Unfortunately they only copied the "outside" look.

Content

The original track listing has been upgraded to nineteen tracks on volume 3. Two of these tracks are talking only; the other out-takes of well known songs. The audio quality is very good; you can't hear the different sources that must have been used to compile this release. The big minor is that this release does not contain any song that has not been released elsewhere, perhaps only two songs cut from a medley which are presented here as single tracks.

"Hound Dog" (original master take 31) is a great track and a good selection to open almost any compilation. The song "Danny" isn't as great as "Danny Boy", Elvis recorded better tracks for his early movies and not a strong follow up to the first classic on this release. Take 2 of "Fame And Fortune" is a better selection; it has a slight laid back feel contrary to the standard we know, it fits the song.

The alternate (HQ-2) version of "Frankfurt Special" is a happy and very upbeat song, a bit too fast for our liking, but hats of the guitar player for the fast finger picking. "Bridges" is a too dull song to listen to outside a movie.

The original master, take 3 of "Crying In The Chapel" is more like it, sung with passion and honour for the Man in the Sky. This performance is followed by take 2 of "Surrender". Not too different from the master, still a great song to listen to, Elvis really uses his voice.

Five (so called) previously unreleased stereo versions of "Can't Help Falling In Love" (takes 1 – 5) are a nice listen, the intro with the bells and Elvis singing his lines very fragile show this is a great song. Listening to so many boots lately with this song as closing theme almost made us forget that. From a delicate song to a bunch of Mexicans shouting "Ay Ay Ay Guadalajara" is a bit sudden, but for a movie song (alternate take PVX-2) this isn't a bad song.

On "It Hurts Me" from the medley of the "'68 Comeback Special" you can hear it is taken from an old fashioned vinyl source, but for an Elvis recording it gives this version (6/68, previously unreleased on CD) something authentic. The version of "Let Yourself Go" comes from the same '68 special and sounds great. Elvis gave this song the dirty feeling it needs.

The alternate takes of "Inherit The Wind" and "Gentle On My Mind (no take numbers available) sound great. Elvis recorded those songs perfectly. Two spins here before we continued the CD. The vocal version of "In The Ghetto" is taken from the "E2" audio DVD.

A live recording from February 1970 (MS) of "Let It Be Me" is the first live track on this compilation and a nice version. He still had it back then. This song needs a voice with a tear in it and Elvis had that. From "Memories" we get a "funny version", which basically means Elvis and his band acting like a fool, dog, cat, duck, wolf and at moments, performer (July 24, 1970).

The meet and greet with Elvis is a talking only fragment, would have been a good closing of the compilation, now it disturbs the listening. "For The Heart" is another (so called) previously unreleased undubbed version which has a good country feel matching the song, but the performance is too messy. The CD ends with an interview with Elvis and The Colonel for TV Guide.

Conclusion

A nice selection of songs, takes are not too different from the versions we know, no talking between the song with the exception of "Can't Help Falling In Love" and a good audio quality. Although made for the quick $$$ under the wings of the success of the two Madison releases, this is simply a nice-to-listen-to compilation.