A Legendary Performer, Volume 7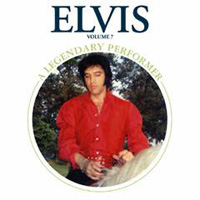 Content
Track listing:

01 (There'll Be) Peace In The Valley (For Me) (binaural master, Take 9)
02 Loving You ("main title 2", Take 7)
03 Ain't That Loving You Baby (Takes 7, 1)
04 Summer Kisses, Winter Tears (Takes 21 23)
05 There's Gold In The Mountains (undubbed master, Take 3)
06 I'll Take Love (master)
07 The Girl I Never Loved (Takes 8*, 10* and Take 11)
08 Speedway (unedited master, Take 4)
09 Stay Away, Joe (movie version, Takes 3*, 4* and Take 8)
10 "Live A Little, Love A Little" radio ad (previously unreleased)
11 Long Black Limousine (Takes 3*, 5* and Take 6)
12 In The Ghetto (Takes 5*, 6* and Take 1)
13 Don't Cry Daddy (soundboard) 26/01/70 OS
14 Elvis Talks (previously unreleased rehearsal) 07/08/70
15 You Don't Have To Say You Love Me (previously unreleased rehearsal)
16 Words (previously unreleased rehearsal)
17 I Just Can't Help Believin' (previously unreleased dressing room rehearsal)
18 Blue Suede Shoes (previously unreleased soundboard) 27/01/71
19 Until It's Time For You To Go (soundboard) 26/01/72
20 Separate Ways (movie version, Take 2)
21 Jaycee Awards Speech (previously unreleased)
22 Funny How Time Slips Away (soundboard) 10/04/72
23 I'll Remember You (previously unreleased soundboard) 02/73
24 Hound Dog (previously unreleased soundboard) 05/74
25 Big Boss Man (soundboard) 06/10/74 ES
26 Heartbreak Hotel (previously unreleased binaural) 20/03/76
27 Reconsider Baby (soundboard) 21/02/77
28 If You Love Me (Let Me Know) (previously unreleased soundboard) 1977
29 "This Is Elvis" radio ad (previously unreleased)
Reviews
ElvisNews.com:

Madison is trying to beat FTD regarding release-speed and now they came up with Volume 7 in this series. Is it worth to keep up with them?

Design

With the Madison label this section it is just cut and paste. As always the design is perfect, a great booklet with many rare and less rare pictures and to the point linernotes on the songs and recordings on the CD; thumbs up once more.

Content

Any CD with over five and a half minutes of "Long Black Limousine" can't be wrong. The remaining 68 minutes are just a nice bonus. Of course we jumped directly to track #11 to hear the unreleased takes of "Limousine". Well, they last just over one minute together, but the pure emotion in those first couple of lines is worth having them. Since we were in the neighbourhood anyway, we stayed for a while to enjoy two unreleased takes of "In the Ghetto", closing with the outstanding take 1, earlier released on one of the most popular bootlegs "Finding the Way Home".

After this first exploration of the CD we managed to start at the beginning and found we have another little jewel in our player. The diversity on this disc is so much more enjoyable than those mostly poor sounding live recordings that we've heard lately. Even a relatively weak "There's Gold in the Mountains" gives listening pleasure in the context of this CD.

Highlights are (of course) the rehearsals for TTWII of "Words" and "You Don't Have to Say You Love Me". Also in a short piece of an interview about the "Jaycee Awards Speech" it is fun to hear Elvis expressing how nervous he was back then. Unfortunately "I'll Remember You" is spoilt a bit by Elvis fooling around.

Seeing the track listing we wondered "why a live version of "Hound Dog"?" and we still do, since we think more interesting songs can be found, like the following "Big Boss Man". But hey, no one's perfect, not even Madison.

Our opinion on Elvis in 1977 is pretty clear for our regular visitors, and even the rendition of one of our favorite Elvis songs, "Reconsider Baby", on this CD can't change that. The man just didn't have it (anymore) in that year, although for some reason "If You Love Me" does ignite a little spark in our man in - as it seems – any version.

Conclusion

Once again a very enjoyable escape on the Madison label, we like to keep up with them.